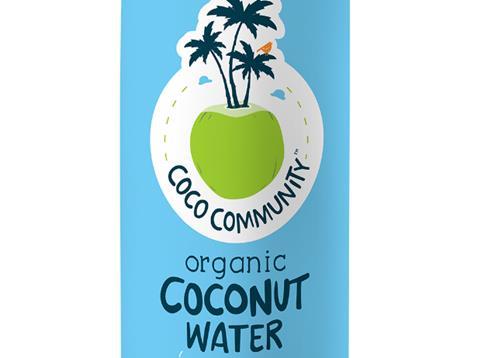 Vita Coco's premium sister brand Coco Community is to make its UK retail debut this month, rolling out to Waitrose and Whole Foods Market.
Since the launch was exclusively revealed by The Grocer in August, the brand's owner, All Market, has altered the packaging from green and white to pale blue for the British market, in response to consumer testing that found the drink needed better stand-out on shelf (rsp: £2.29/250ml)
The high-end product aims to tap demand craft and organic offerings within the coconut water category. It is single-sourced from Thailand and made with Nam Hom coconuts grown by Ratchaburi Province organic farmers in a community partnership model.
The coconuts had a sweeter fragrance and nuttier flavour than Vita Coco's drinks, according to Tim Rees, commercial director at Vita Coco UK & Ireland, who is overseeing Coco Community's UK rollout.
This was not a mass product launch, he insisted, but the premium brand was looking for more retail partners to target "the gourmand consumer, that proud food snob and early adopter".
Coco Community will be packed in PET bottles as opposed to the Tetra Pak cartons used for Vita Coco and other mainstream coconut water brands in the UK. It is UHT treated whereas many artisan coconut waters are not pasteurised but instead processed using cold pressure.
"Long term, craft is definitely going to be a much bigger part of the UK market, in the same way you've seen it become a real mega-category in the US," Rees added.