Own label is increasingly rivalling brands in the innovation stakes. So at this year's PLMA show in Amsterdam – the biggest ever, hosting 2,600 own label exhibitors – there were plenty of new and exciting creations on show. Here's our pick of the products making waves in their markets.
1. Bake-in-box bread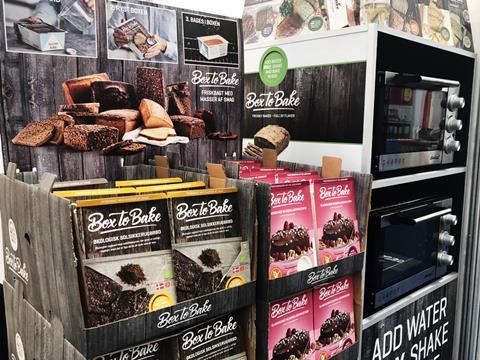 Baking your own bread has never been so easy with this patented Danish product. Just add water (or beer for the beer-based bread) to the box of ready-made mix, shove it in the oven and a freshly baked loaf will be yours for minimal effort. The Box to Bake range, which includes low-carb and gluten-free mixes, has been in Denmark for nearly 10 years. Until now, expansion has been limited due to a battle over its patent. Having won the dispute, the company is looking to expand overseas – and the UK is on its target list.
2. Vegetable spreads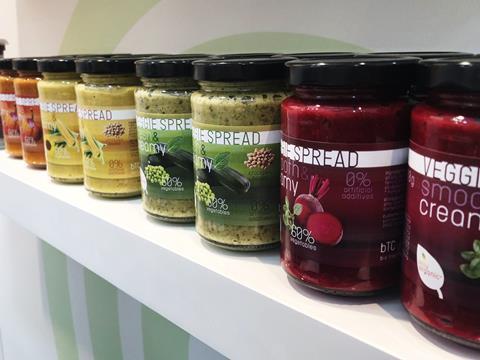 These colourful spreads are a breakfast staple in Holland. Traditionally served on toast and boasting more than 60% vegetable content, organic ingredients and no artificial additives, they certainly beat jam in the health stakes. As UK shoppers become more health-conscious, manufacturer Bio Trading Company sees an opportunity to enter the market. In contrast to traditionally sugar-laden spreads, these chickpea-based recipes have a natural sweetness from the vegetables and a "creamy taste and texture". The range comes in four flavours: sweetcorn, sundried tomato, cucumber and beetroot.
3. Tea water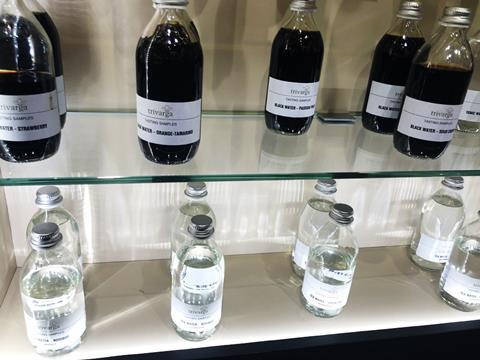 Just when you thought you'd seen every type of flavoured water imaginable, along comes Swiss company Trivarga with Earl Grey and Rooibos waters. These 'tea waters' are designed to cater for people who like tea but also want the hydration that comes from a good dose of H2O. These colourless formulas are created by cold infusing (the company won't reveal the secret "complex" method) water with tea extracts to create a subtle, yet distinctive flavour. The range includes almost every blend imaginable except for builders' brew.
4. Superfood powder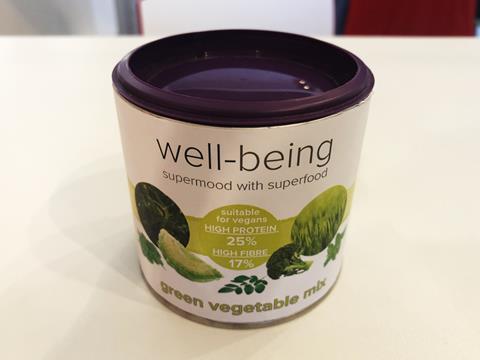 Presumably to the delight of veggie-dodgers everywhere, German company Hügli has unveiled a product that gives you all the benefits of eating your greens without actually eating them. Well-being – which comes in five flavours – distils ingredients such as broccoli and lettuce into a powder form that can be added to milk or muesli. With a protein content of 25% and fibre content of 17%, the product represents a change in direction for Hügli to enter the growing sports and nutrition market. As the own label supplier already has links with Aldi and Lidl, it may not be long before the superfood powder becomes mainstream.
5. Halloumi fries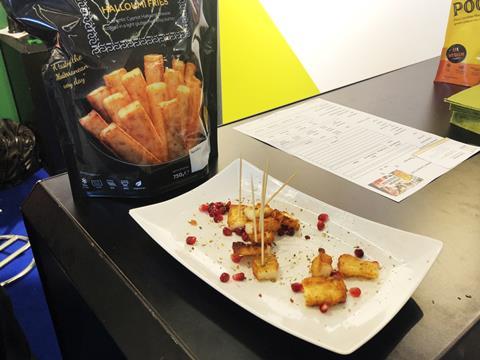 We've seen them in Byron and Nando's, but halloumi fries have been notably absent from the supermarket scene. Abergavenny Fine Foods is looking to change all that. Its halloumi fries, launched at the PLMA event and served with pomegranate seeds, proved a popular choice with passers-by. The official launch follows halloumi fries making their debut in Aldi two weeks ago (although Abergavenny will not confirm whether or not it is the manufacturer).
6. World cuisine for pets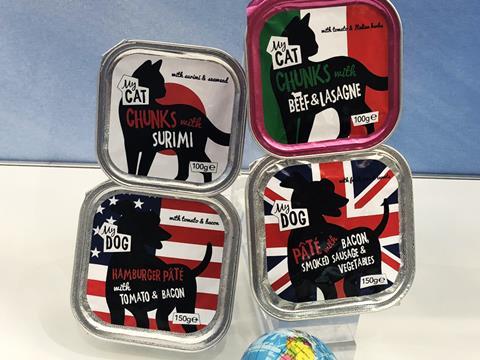 Surimi for cats is a pretty bold proposition. But at a time when petfood is increasingly mimicking human food, it was only a matter of time before world cuisines crept into the mix. These products from Teeling Petfood highlight their world credentials with flag imagery and modern packaging. Consumers looking to broaden their pet's horizons can choose options including a hamburger paté for dogs and beef lasagne for cats.
7. Collagen coffee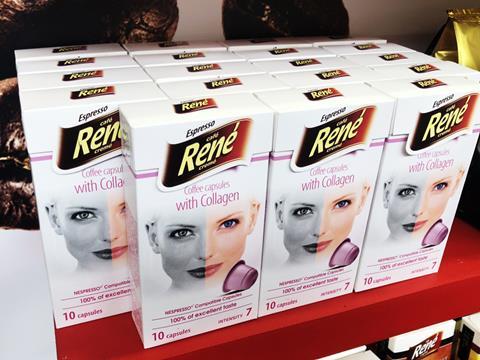 Hailed as a wonder ingredient for youthful skin and joints, collagen has taken the supplement scene by storm. Now Polish coffee supplier René has found a way of increasing intake without the need for tablets. These capsules contain a third of your recommended collagen intake – the idea being that consumers can easily incorporate as many as three cups into their daily routine. René promises that it tastes the same as your standard, collagen-free stuff, but with an added beauty boost.
8. Crisps reinvented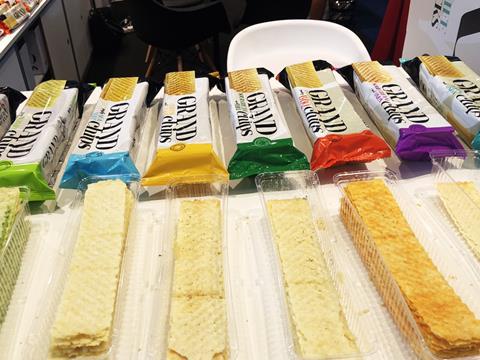 First prize for design goes to this Estonian crisp company. These crisps may not be that different to standard fare – unlike many snack exhibitors at the show, they weren't claiming any health credentials – but the unusual and eye-catching format caught plenty of attention. Available in a wide range of flavours, including wasabi and BBQ, there is rumoured to be a launch in Scotland soon (with the Grand Chips name changed to something more suitable for the UK market).
9. Heinz Beanz Toastie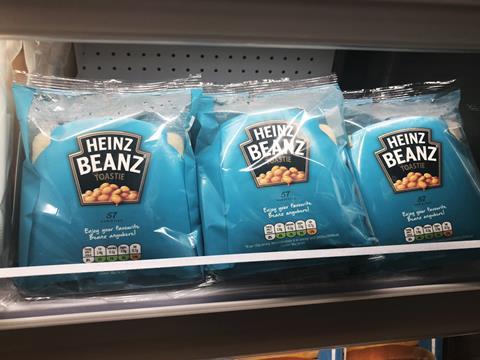 The latest bid by Heinz to marry Beanz and convenience comes in the form of a toastie. This ready-to-heat sarnie is already in UK coffee shops, where it can easily be toasted while customers are waiting. It could also potentially make its way to supermarket cafés as Heinz explores further foodservice avenues. Beanz afficionados may notice the controversial decision not to include cheese in the recipe. According to manufacturer Vleems Food, this was down to the preferences of customers in a pre-launch survey. (Plus, the lack of cheese has undoubtedly helped three of the four traffic lights stay green.)
[This article was updated on 4 June 2018 to reflect Heinz Beanz Toastie's possible future availability]