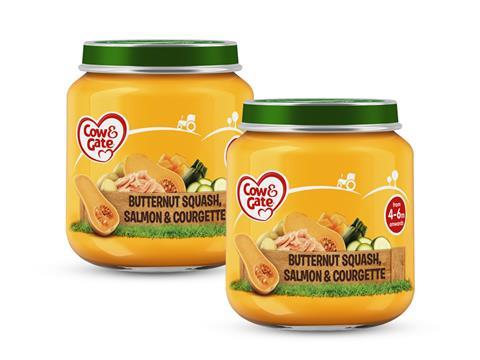 Danone is poised for a major overhaul of its Cow & Gate babyfood brand that will see fish introduced to stage one feeding in what the supplier claims is a category first.
Cow & Gate's "biggest-ever" shake-up will see 15 new variants hit shelves from mid-June including a butternut squash, salmon & courgette jar for age 4-6 months. "We're the first to bring fish to weaning," Tony Lorman, Danone's commercial director for early life nutrition told The Grocer.
Other NPD across pouch, pot, tray and bag formats has been created to help parents introduce new flavours and textures into the baby's diet. They include a mango, spelt & Greek-style yoghurt pouch for stage one, multigrain porridge with oats & barley for stages one and two, and a stage three tray of paella with vegetables, chicken & fish (rsps: 70p-£2.39). New packaging "inspired by nature's colours" will have more green in the design and feature images of ingredients.
Cow & Gate's milk powders are also set to change, shrinking from 900g (rsp: £9) to 800g (rsp: £8) to make the packs "a bit more accessible to parents" and the same size as "95% of the powdered milk category", Lorman said.
Danone has also reformulated its Aptamil lineup of breast milk substitute. It will roll out in fresh packaging from late June with the "most advanced formula yet".
In the planning for more than two years, the revamp marked "the biggest changes the category has seen for over a decade", according to Lorman.