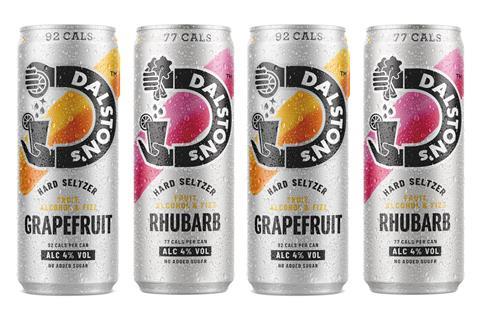 Soft drinks brand Dalston's Soda is venturing into booze with a duo of hard seltzers.
The brand has launched two 4% abv flavours – Rhubarb and Grapefruit – both of which are made by combining its existing non-alcoholic seltzer recipe with triple distilled pure malt vodka.
They contain no added sugar or artificial sweeteners, and both fall under 99 calories per can.
Co-founder Duncan O'Brien said he had been troubled by the "lack of basic nutritional content information on alcohol packaging". Consumers "deserve full transparency of the products that they buy" he added.
The brand said its hard seltzer duo met demand for "booze with balance and transparency of nutritional values".
The move follows the launch of its no-added-sugar seltzer range in January 2019, making Dalston's the first UK drinks brand to offer both soft and hard seltzers, it said.
They will launch next month on Dalston's web shop and Amazon (rsp: £2.49/330ml).