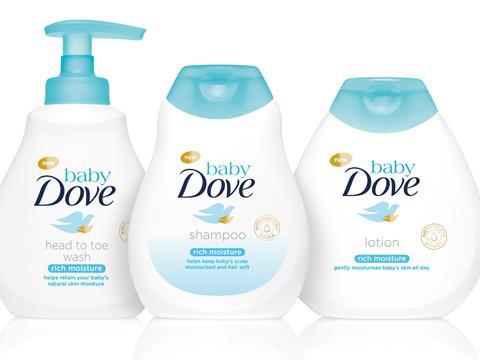 Unilever's Dove has moved into babycare with the launch of an extensive Baby Dove range, which the supplier has hailed as its biggest innovation in ­personal care for 2017.

Set to be backed by an £8m investment, the moisturising NPD would "completely shake up" the infant toiletries category, claimed Unilever.

Arriving in Dove's 60th year, Baby Dove has been created to appeal to millennials.

It includes six variants spanning cleansing, skincare, hair, nappy cream and wipes, in both fragranced (Rich Moisture) and fragrance-free (Sensitive Moisture) selections (rsps: £69p-£5.50). Rolling out now, the products were formulated to moisturise baby skin - which loses moisture "up to five times quicker than adult skin". The "soft muskiness" of the fragranced options is intended to complement a baby's natural scent.

Packaging has the Dove design on a white background, but with a teal colour on the closures of the bottle, which resembles a droplet.

The £8m push for the new lineup will include in-store, experiential, PR and digital activity, as well as TV support.

Entering a new category was "incredibly exciting" for Dove, said Marcus Buck, brand manager for baby & kids at Unilever UK. "Dove prides itself on its superior moisturising qualities, so it was only right we entered into a category that demands the highest level of care."

The infant toiletries market is relatively small but gaining traction as players including Hipp Organic and Aldi extend their babycare options.