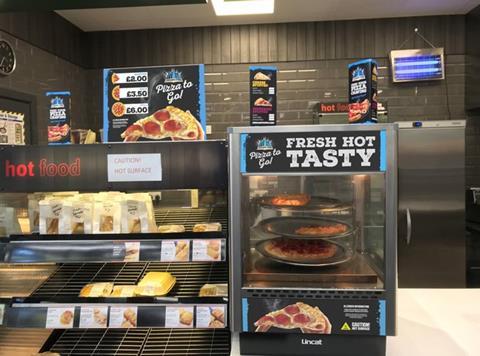 Dr Oetker is set for a national launch of its new Chicago Town pizza-to-go format for convenience stores.

The hot takeaway pizza concept will enable retailers to sell hot pizza from a heated in-store branded cabinet in two variants - Loaded Cheese and Loaded Pepperoni.

The cabinet supports three hotplates which keep the pizzas at their optimum temperature for about 90 minutes.

Customers can buy quarters, halves or a whole 12-inch pizza, which Chicago Town says offers the flexibility to create "exciting meal deals and attractive price points".

More than 100 stores feature the concept following pilots in Scotland and the south. "We are rolling out nationally and currently working with many leading convenience and impulse operators to launch this concept," a spokesman said.
The brand claims the concept delivers a 50% margin for retailers for an investment of £550 plus VAT for the pizza cabinet, which is offset by £560 of free frozen stock, based on an rsp of £7.

Although the pizza is frozen, the dough is not pre-cooked so rises when the retailer puts it in the oven.

"With over 25 years' experience in making epic pizzas, we are passionate about delivering the ultimate pizza hit at Chicago Town, from the first bite to the last," said Dr Oetker senior brand manager Richard Cooper.

Sales of hot food to go were predicted to go through the roof in 2019, he added.

The company provides participating stores with promotional support materials, including point-of-sale packs, menu cards and disposables. It provides training and ongoing support through field teams.

Harry Goraya, who owns Nisa Local in Northfleet, Kent, said the pizzas were ready within 10 minutes.

"We have a food-to-go area within our store anyway and it has been doing OK for a couple of years now. But we do very little in the evening, so we had to find something that's popular, easy to make and hopefully easy to sell, and this fits the bill.

"In about three months we will measure what sort of volume we're selling and have a discussion about what other varieties might be viable."