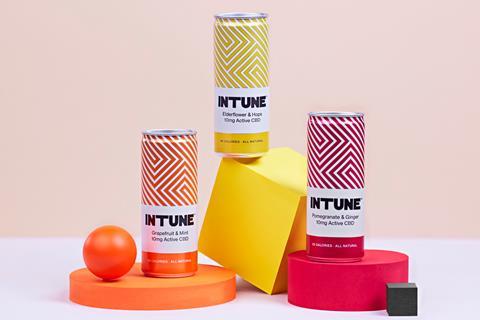 A drinks PR expert is to launch a premium brand of CBD soft drinks – with support from fmcg movers and shakers.
With an eye on tapping the booms in CBD and adult soda, Hannah Glasson has created In Tune, having quit her role at Story PR after nearly 12 years. She founded the agency in 2008 with her sister Ailana Kamelmacher, securing Talisker, Sipsmith and Good Hemp among its client brands.
In Tune comprises three reduced-calorie variants: Grapefruit & Mint, Elderflower & Hops, and Pomegranate & Ginger – each sweetened with fruit juice and beet sugar. They come in a 250ml can that provides 10mg of broad-spectrum CBD and no more than 43kcals (17.2kcals per 100ml).
The CBD comes from hemp grown on a 200-hectare, family-run farm in northern Lithuania. "We decided we'd find a top-quality source and make it delicious," said Glasson, who spent around a year developing and self-funding In Tune.
She decided to set it up after undergoing treatment for breast cancer, during which time she took CBD oil daily to "feel balanced, highly productive and able to work all the way through" she said.
The London brand's design and "grown-up" flavours were created with input from grocery heavyweights such as Innocent founders Richard Reed, Adam Balon and Jon Wright, as well as booze consultancy The Crucible Melting Pot.
In Tune now boasts a board of fmcg experts including Belazu commercial director Peter Oden as non-executive director, and sales veteran Freya Harrison, formerly of Bounce and Soda Folk. Their relationships with retailers, coupled with Glasson's contacts in the on-trade, would make for "a winning team" she said.
The nascent drinks brand will roll next into Fortnum & Mason. The listing was "a marker of quality, and means we're getting out there in a different way" Glasson said. In Tune's trio will also be available in Planet Organic, and in the on-trade via The Zetter Townhouse Marylebone.

Demystifying Hemp & Cannabidiol
The CBD Global Summit is a brand new two-day conference that brings together cutting edge science, regulatory know-how and consumer insight that businesses need in order to explore the CBD opportunity
A conference brought to you by The Grocer, FoodNavigator, NutraIngredients and CosmeticsDesign