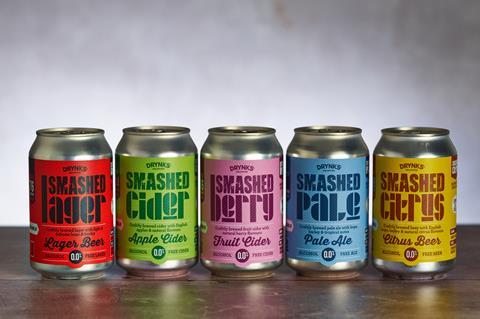 Drynks Unlimited has added a duo of non-alcoholic drinks to its 'Smashed' range.
They are: Smashed Pale Ale and Smashed Berry cider.
The former is billed as "light and refreshing" with "tropical and passionfruit notes".
The latter, meanwhile, is described by the brand as "sharp and refreshing" with "strong forest fruit flavours followed by hints of English cider".
The two new drinks will roll out next month in 330ml bottles and cans (rsp: £1.99).
Drynks Unlimited said the pandemic had "presented an opportunity for alcohol-free brands to thrive, as consumers look to refocus on their health and wellbeing".
Founder and MD Richard Clark said Drynks Unlimited was "driving genuine growth to the sector by offering quality drinks which suit a raft of different occasions".
Its drinks are made using a cool vacuum distillation technology, starting as a craft beer or cider before being "gently dealcoholised", which "retains the DNA of the original drink", added Clark.
The new launches are the first since Drynks Unlimited appeared on the BBC's Dragons' Den, having secured a £125,000 investment sum from Sara Davies, in exchange for 7.5% equity.