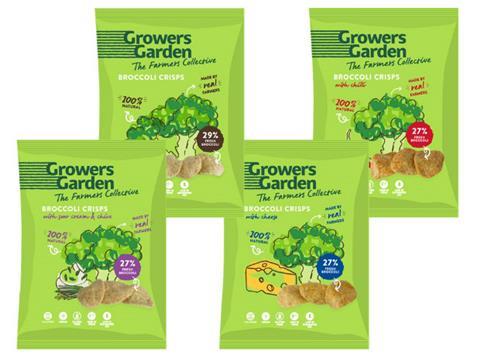 A group of farmers from growing co-operative East of Scotland Growers are to launch a range of extruded vegetable crisps under its new Growers Garden brand.

It is set to debut four broccoli crisp SKUs, in Original, Chilli, Cheese and Sour Cream & Chive flavours at its official launch at the Speciality & Fine Food Fair in September.

The brand claims to be the first of its kind worldwide to create snacks with extruded fresh vegetables, as opposed to vegetable powders, targeting the healthy snack market.

Each variant features 27% broccoli, using excess, offcuts and veg that falls outside retailer quality specifications and contains fewer than 100 calories per 22g bag.

The broccoli crisps also claim high fibre content while all ingredients are grown on ESG farms to LEAF standards in bid to safeguard the environment and promote sustainable farming practices.
"Using fresh broccoli doesn't impact shelf life, the main difficulty is operational. It's easier to use dry products and run a dry factory and we've set up to be a production as a mixture of wet and dry," said Suzanne George, commercial director of Growers Garden.

"It was important for us to use fresh, because we asked consumers about their intent to purchase which was 79% using fresh broccoli, compared to just 19% for powdered."

But the decision caused challenges, adding an extra year to the development of the Growers Garden brand which cost 15 growers and four directors £2m of their own money to launch.

The idea had been in development for almost two years, coming out of ESG's strategy to add value to its primary product and reduce waste, with the final product and brand unveiled to stakeholders in February this year. The co-op has plans to expand the range beyond broccoli into the other veg ESG produces.

"This fresh new brand is truly innovating within the healthy snack category and we're proud to say it's truly delicious with early product trials showing an 82% likeliness to purchase after taste," said Growers Garden chairman Nick Marston.

"We are in a great position now to introduce the product to market with high interest already received from international markets."