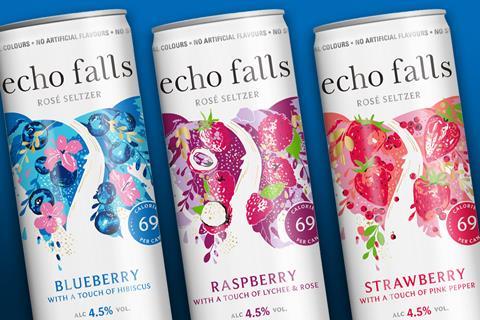 Accolade Wines is taking Echo Falls into hard seltzer.
The brand has created a trio of 'Rosé Seltzer' drinks – Blueberry & Hibiscus, Strawberry & Pink Pepper, and Raspberry, Lychee & Rose – which are billed as a lower-calorie option with just 69 calories per 250ml can.
The drinks are billed as appealing to shoppers who want to moderate their alcohol consumption.
Read more
The "blurring" of BWS categories was becoming more popular, said Accolade Wines innovation commercialisation manager Abigail Whithair.
"This range aligns with our new 'your friend in wine' brand positioning, as we look to bring back younger shoppers (35 and under) to wine and navigate them through the portfolio, who may have been lost to other categories such as gin."
The move marks the latest in a series of lower-abv launches from the Echo Falls brand: May, for instance, saw it launch a duo of Botanical Fusions at 5.5% abv.
It comes after Echo Falls was given a major makeover in June with an eye to revitalising the brand and broadening its appeal.
William Reed – the publisher of The Grocer – has launched a new exhibition exclusively for the low & no category. For more information, visit low2nobev.com.