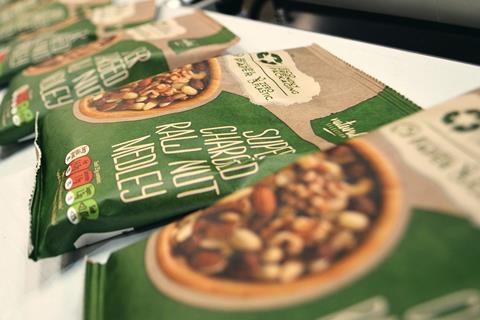 Evolution Foods, an independent supplier of dried fruit and nuts, has claimed a first for its sector with Natural Selection, a bagged snack brand in plastic-free packaging.
The 25-strong lineup will be available from Monday (15 July) in Wilko, packed in heat-sealed paper with a water-based coating to prevent moisture.
The packaging was recyclable at home and "could potentially save over 1,350 tonnes of plastic in the dried fruit, nuts and seeds market in the UK" said Evolution, which is working towards a commitment of sending zero waste to landfill.
The launch follows around 18 months of development and trial by the supplier, in partnership with a packaging specialist in Telford.
While the paper packs provided a shelf-life of six months, rather than nine of traditional plastic film, "this is a snacking range, where products tend to be bought and consumed relatively quickly" said Evolution. "We don't expect this to impact consumers and their experience".
Nevertheless, the business was "continuing to work with its partner to develop a new inner coating for paper packaging that is still plastic-free but could allow for shelf-life extensions" it added.