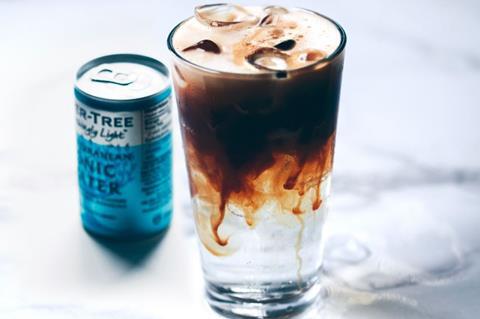 Fever-Tree has partnered with Caffè Nero for an 'Espresso & Tonic' which will be sold through the coffee chain.
The pair of brands has created two serves designed to match "the sweet caramel and dark chocolate notes of espresso with the award-winning flavour of Premium Indian Tonic Water, as well as the delicate, floral notes of Mediterranean Tonic Water", said Fever-Tree.
They are 'The Original Espresso & Tonic with Fever-Tree Indian Tonic Water' and 'The Ultimate Espresso & Tonic with Fever-Tree Mediterranean Tonic Water and Ginger Syrup' (rsp: £3.75-£3.85).
"Hand-made by expert baristas in store, the tonic is lovingly poured over ice and topped with a double shot of fresh espresso, which is added slowly to create a stunning two-toned ombré effect within the highball glass or takeaway cup and finished with a slice of lemon," said Fever-Tree.
"We wanted to create a unique and exciting drink which maintained the premium quality of our coffee and brought a surprising delight to our customers," added Caffè Nero head of UK marketing Marcus Denison-Smith.
Fever-Tree revealed its preliminary results for the year ending 31 December 2018 last month, reporting a 40% surge in revenue to £237.4m. Profits after tax hit £61.8m, up from £58.7m the prior year.