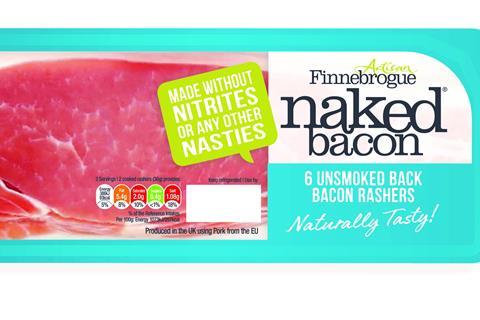 Northern Ireland-based Finnebrogue is set to bring nitrite-free bacon to the masses with the launch of a new, lower-priced variant of its Naked Bacon range, using cheaper pork from outside the UK.
The new line, which is made with pork from the Republic of Ireland, went on sale this week in Sainsbury's at £2 per six-pack of, ­falling to £1.50 when on ­special offer. This compares with an rsp of £3 for a UK-sourced Naked Bacon SKU.
The lower price point had been made possible due to the lower cost of EU versus UK pork, cheaper packaging and through a £2m investment in state-of-the-art machinery, which had allowed it to increase production efficiencies, Finnebrogue said.
"As a business we currently only use British pork, as it is the best anywhere in the world," added chairman Denis Lynn. "But we also believe our safer nitrite-free bacon should not just be for those who can afford it."
The company would not be drawn on how its sourcing might be affected by a no-deal Brexit, but Lynn was defiant in the face of uncertainty. "The politics doesn't matter to us," he said. "If businesses blaze a trail and deliver excellent and affordable products for consumers, they can be successful in any circumstances."
Finnebrogue's standard Naked Bacon range, which has racked up £15m sales since launching last January, would remain on sale, a spokesman added.
The launch follows a busy period of expansion for the supplier, which has invested a total of £19m in Naked Bacon in the past 18 months.
The supplier also ramped up its presence in plant-based meat alternatives in January, after launching a range of vegan-friendly products made at a new £3m production facility at its County Down base.