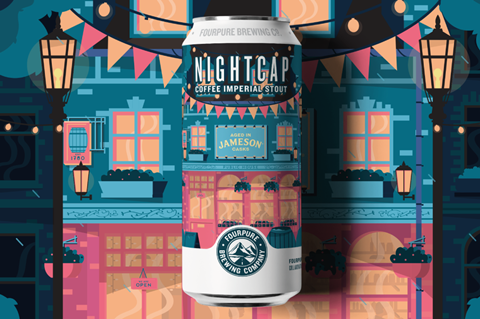 Fourpure Brewing Co and Jameson have teamed up to create a limited-edition Barrel-Aged Irish Coffee Imperial Stout called Nightcap.
Nightcap (9% abv) was made by aging an Imperial Stout in Jameson's whisky barrels before blending back and adding fresh coffee beans.
The result was a beer that contained six different malts, with "hints of vanilla" and "heavy roast flavours of rich coffee and cocoa".
The barrel-ageing process also provided a "rounded oak finish" and a "warm taste of whiskey".
It is available online now, priced at £5/440ml can.
Fourpure head of marketing Adrian Lugg said that the brand was "very proud of Nightcap".
"It's another example of our continued innovation, pushing flavour boundaries and giving customers something extraordinary outside of our core range of beers. And it tastes amazing," he added.
Nightcap comes hot off the heels of the Jameson Caskmates Fourpure Edition whisky which launched in September.