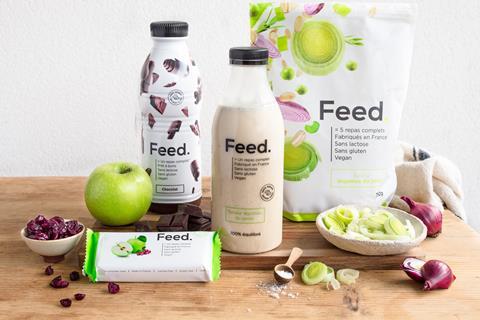 France's Feed is taking on the likes of Huel and Soylent in the UK's burgeoning 'smart food' category, offering 50-plus SKUs through direct-to-consumer.
The brand opened its online channel last week, while products are set to roll out in June to 70 branches of a well-known retailer on a trial basis. Further details are under wraps.
Launched in early 2017, Feed offers snack bars, confectionery, meal powder, drinks and spreads – all gluten-free and promising the same nutrition as a complete meal. There are also higher-protein and lower-calorie ranges. Prices start at around £3.
Feed's food and drink are influenced by French cuisine, with its two Bio drinks created in collaboration with chef Thierry Marx. This was a key point of difference in the smart food segment, claimed the Paris-based brand's export manager Sébastien Herriau, as was savoury NPD such as Green Vegetables and Spicy Tomato powders.
"In the UK and US, innovation is coming with sweet flavours only, like vanilla and red berries," he said.
Currently available in more than 3,000 points of sale across France, Benelux and Sweden, Feed has achieved turnover of €10m (£8.6m) since launching two years ago – with growth fuelled by almost €20m (£17.2m) from three fundraising rounds.
"We really want to become an international brand," Herriau said. It is set to expand into Spain, Italy and Germany – although the UK was "a major priority for 2019" he added. "The next battle in smart food will be in the UK."
Feed's chief opponent would be Soylent, said Herriau. The US brand will next week roll two variants of its core drink into WH Smith, seven months after first becoming available in the UK via Amazon. The UK's own Huel, launched in 2015, is currently available only via D2C.