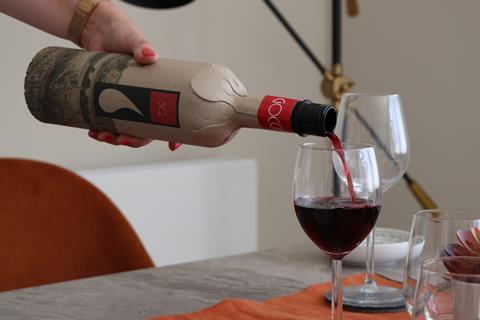 Packaging supplier Frugalpac has created a paper wine bottle it claims could revolutionise sustainability in the wine sector.
Dubbed the Frugal Bottle, it is made with 94% recycled paperboard and a food-grade liner to hold the liquid inside.
The bottle is some five times lighter than a regular wine bottle, coming in at 83g, and can be recylced along with other household waste.
Frugalpac said the bottle was already "under active consideration by a number of leading UK supermarket chains and hospitality groups keen to promote sustainable packaging".
Italian wine producer Cantina Goccia has already taken up the bottles, and the brand said it would be "available from other retail outlets across the UK, in Denmark and Holland over the next few weeks".
Frugalpac had "had fantastic feedback from people who've trialled the Frugal Bottle. As well as the superior environmental benefits, it looks and feels like no other bottle you have ever seen," said its CEO Malcom Waugh.
"Frugalpac's business model is to supply Frugal Bottle machines for wine producers or packaging companies to manufacture the bottles on their site, cutting carbon emissions even further. Materials can be purchased locally through existing paperboard printers to give maximum freedom of design and the best commercial offering."
This model, he said, meant the bottles "can be produced in the heart of their bottling facility, offers complete freedom on design and print, and is more cost-effective to transport while reducing [suppliers'] carbon footprint".