Each month, The Grocer takes a look at what's up-and-coming in booze. This month we've got infused gins, bag in box cider, and a very special craft beer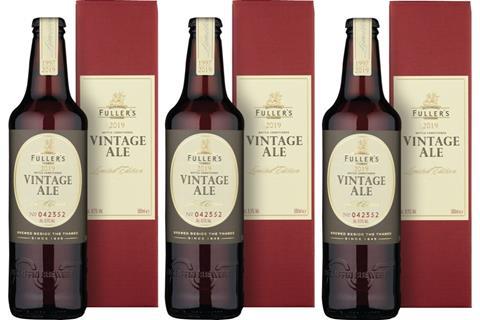 Fuller's Vintage Ale
Fuller's has launched the 2019 edition of its Vintage Ale.
This year's release (8.5% abv) is billed as having notes of "toasted bread and honey", and has rolled into Waitrose (rsp: £6/500ml).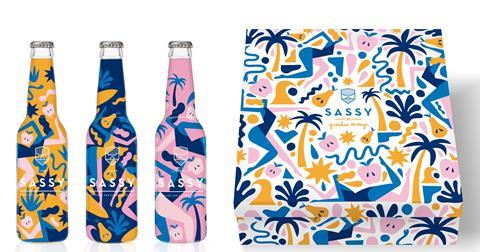 Maison Sassy cider gift box
Maison Sassy has created a Gift Box containing three 33cl bottles of its ciders dressed in limited-edition packaging designed by illustrator Quentin Monge.
The box includes Sassy Cidre (5.2% abv), Sassy Cidre Rosé (3% abv) and Sassy Poiré (2.5% abv). It has rolled into Selfridges (rsp: £28/3x330ml).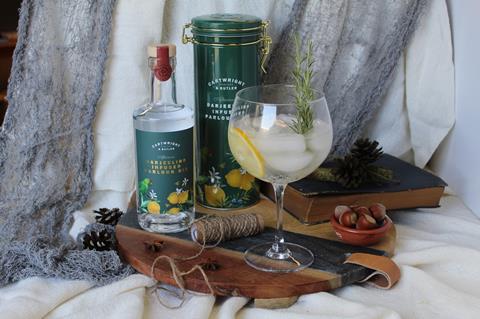 Cartwright & Butler tea-infused gin
Cartwright & Butler has partnered with Yorkshire-based Divine Gin on a new Darjeeling Infused Parlour Gin.
The gin (40% abv) is made with Cartwright & Butler's Darjeeling Tea and acacia honey, and it blends 11 botanicals including juniper, coriander, angelica, cassia, oris root and lemon peel.
It has launched into at Cartwright & Butler (rsp: £42.95/40cl).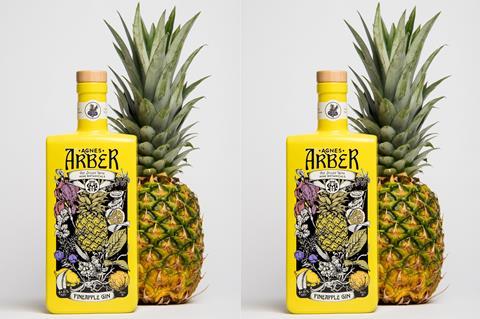 Agnes Arber Pineapple Gin
Signature Brands has expanded its Agnes Arber gin range with a new pineapple flavour.
Arber Pineapple (41.6% abv) is made nine botanicals and is then infused with fresh pineapple and a hint of mango after distillation.
Signature Brands head Nic Ponticakis said that Arber Pineapple was "an opportunity to cut through the flavoured gin noise", adding pineapple gins usually existed "only at a liqueur-level abv".
It will hit Amazon next week (rsp: £35/70cl).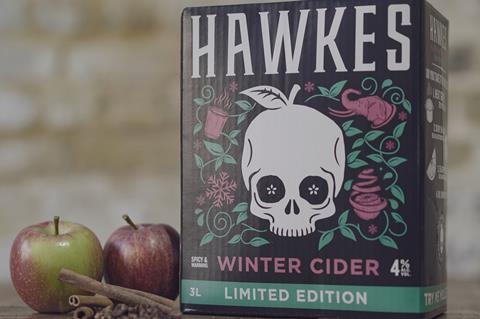 Elephants on Ice
BrewDog-owned Hawkes Cider has added a new bag-in-box winter cider.
Elephants on Ice (4% abv) is made with London-pressed Gala and Braeburn apples and infused with cinnamon, cloves and orange peel for a winter flavour.
It has launched into Asda (rsp £10/3 litres) as well as Hawkes' and BrewDog's online stores.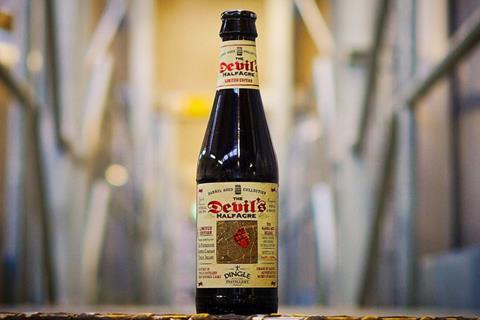 Porterhouse Brew Co Devil's Half Acre
Porterhouse Brew Co is to roll out its Devil's Half Acre stout in the UK.
Devil's Half Acre (11% abv) is matured in Dingle Distillery Bourbon casks for six months, which Porterhouse said gave it "toasted oak flavours" with notes of cherry and a "sweet, malty finish".
It was previously only available at off licences and online in Ireland but will be released to the UK online at Flavourly at the beginning of December (rsp £2.99/330ml).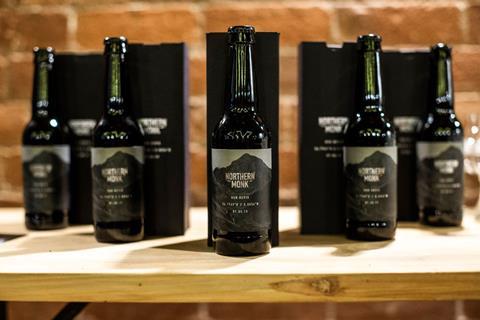 Northern Monk Ben Nevis
Northern Monk has launched a beer which it brewed at the top of Mt. Ben Nevis.
Ben Nevis Beer (11% abv) is made using ingredients foraged from the mountain, including blueberries and water.
Four members of the Northern Monk team hiked the peak in August to brew the beer, carrying 90kg of equipment for the 4,000 ft climb. It was then aged for two months in a whisky barrel, donated by the Ben Nevis Whisky Distillery.
It is available exclusively online (rsp: £1000/330ml), and all proceeds will be donated to the For the North Foundation.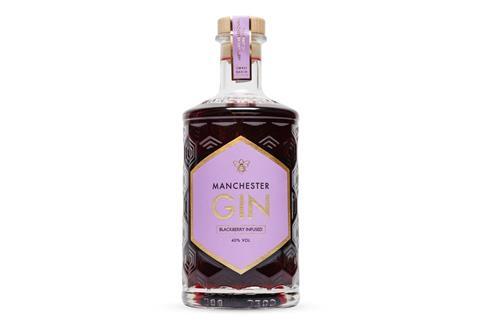 Blackberry-infused Manchester Gin
Manchester Gin has launched its sixth SKU, Blackberry-infused gin.
Manchester Gin claimed that Blackberry Infused (40% abv) was "one of the first" premium gins in this flavour.
It is made with Manchester Gin's classic botanicals, dandelion and burdock root and the juice of blackberries, which give it a deep red hue.
The distillery said that Blackberry Infused had "a smooth yet warming" finish, and was perfect paired with Fever-Tree Elderflower Tonic.
It is available online as well as at C&O Wines and Harvey Nichols (rsp: £35/50cl).