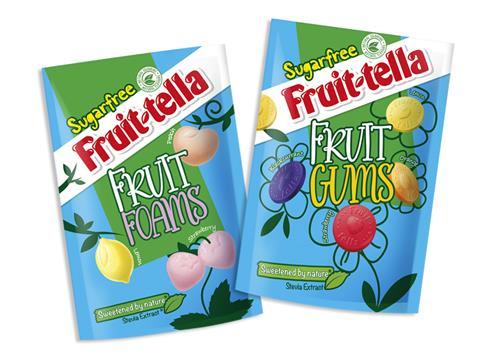 Perfetti Van Melle is rolling out its first sugar-free and reduced sugar lineups of Fruittella, as the supplier targets Brits wanting to cut back on their intake of the sweet stuff.
The brand's two-strong sugar-free range is sweetened by stevia and targets the adult on-the-go snacking category. Fruit Foams provides 181 calories per 100g (rsp: £1.19/80g), while Fruit Gums contains 201 calories (rsp: £1.19/90g).
Both variants come in mixed flavours, and Fruittella's customary pink packaging has been replaced by blue – a colour commonly associated with sugar-free fmcg, according to the brand.
The NPD is landing on shelf now along with Fruitella 30% Less Sugar. Available in Strawberry and Summer Fruits variants, the chew sweets contain 37g of sugar per 100g, with fruit juice content doubled to 6% from the original range to maintain flavour (rsp: £1.19/120g).
The two new lines – both in a pouch format – come in response to research that showed 92% of consumers were trying to reduce the amount of sugar in their shopping baskets, Fruittella said.
The products are set to be backed by a £1.7m spend. This will include headline sponsorship of the new ITV variety show Little Big Shots, scheduled to make its debut on 1 March based on the hit US series and hosted by Dawn French.
The confectionery NPD will also be the star of print ads in Metro and the Daily Mail, along with sampling of more than one million pouches of 30% Less Sugar.
The new sweets were a "ground-breaking step-change in confectionery", claimed Fruittella brand manager Matthew Navier. "Sugar reduction is not an easy thing to do."