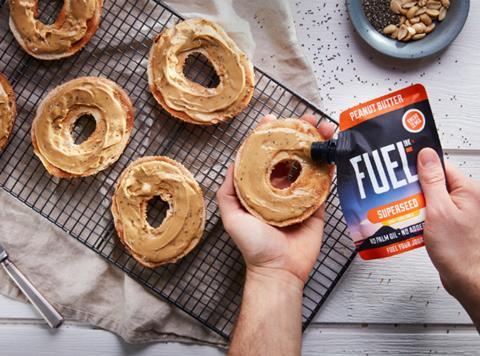 Fast-growing protein breakfast brand Fuel10K has added a raft of new products, including its first range to be merchandised beyond the cereal aisle and its debut in the kids' lunchbox category.
Nut butter pouches, yoghurt drinks for children and low-sugar porridge pots were all unveiled this week.
A three-strong lineup of nut butter is set to land in early February in the spreads segment. Packed in a 225g resealable pouch (rsp: £2.39), it will make its debut in three peanut variants: Smooth, Superseed and Chocolate. Providing around 30g of protein per 100g, they contain no palm oil, with only the Chocolate option including added coconut sugar.
Their launch was to capitalise on "the UK's rapidly expanding £100m nut butter category" while tapping demand for on-the-go options, said Fuel10K. The brand wanted to give "peanut butter lovers a new, more convenient way to consume their favourite morning spread" added co-founder and director Barney Mauleverer.
The nut butter pouches will be preceded in late January by Fuel10K's Mini Yog – its first option aimed at children – and two low-sugar porridge pots. Both launches will join the brand's established breakfast products in the cereal aisle.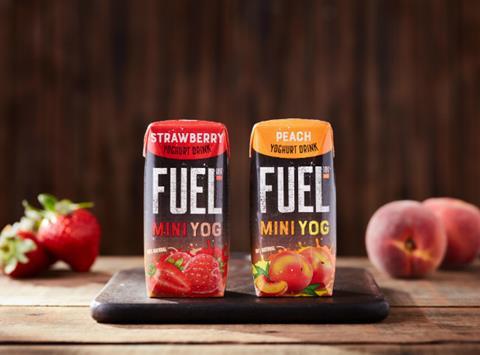 An extension to Fuel 10K's range of breakfast drinks in a carton, Mini Yog (rsp: £2.69/3x200ml) is an ambient yoghurt drink in school-compliant Strawberry and Peach variants aimed at kids aged seven to 16. Sugar is 8g per 100g, while protein is 3.3g.
The breakfast drinks market was experiencing considerable growth due to its appeal to younger adults, said Mauleverer, the 2017 Grocer Gold Awards' entrepreneur of the year. "Traditional breakfast brands have been slow to meet the needs of millennial and Gen X consumers. The result has been an exodus from traditional boxed cereals to alternative, more convenient sources."
Sweetened with xylitol, Fuel 10K's first low-sugar porridge pots (rsp: £1/60g) feature no more than 2.2g of sugar per 100g. They are also dairy free, containing coconut milk powder rather than the regular milk powder often found in similar products. The protein content – an average of 13.6g per 100g – is derived largely from brown rice protein and pea protein.
Fuel10K grew its value sales in the cereals category last year by 21.7% to £3.8m on volumes up 19.2% [Nielsen 52 w/e 9 September 2017]. The figure included the brand's granola, porridge and quark pouches but not its breakkast drinks.