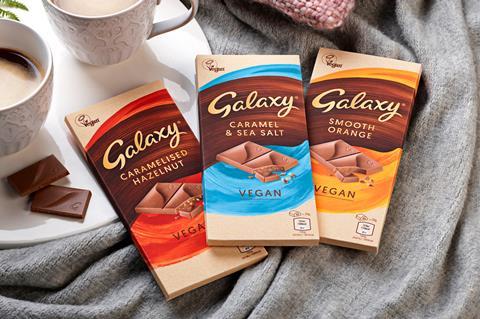 Mars Wrigley is making a major move into free-from with the launch of Galaxy Vegan – complete with recyclable and compostable packaging.
The confectionery giant has unveiled a trio of plant-based chocolate bars for the longstanding brand, which are made with hazelnut paste and a rice milk alternative, making Galaxy the first major milk chocolate brand to launch a fully vegan alternative.
Three flavours – Smooth Orange, Caramel & Sea Salt and Caramelised Hazelnut – will roll into Tesco from November 18, where they will sit in the free-from aisle rather than its traditional confectionery fixture (rsp: £3/100g).
The carton outer sleeve the chocolate is packaged in is completely recyclable, and the wrap around the chocolate itself is made from wood fibre which biodegrades within two months if composted at home.
Nutrition-wise, the bars contain 581 to 599 calories per pack – equivalent to between 168 to 175 calories per 29g recommended serving. This means they are slightly more calorific than Galaxy's core milk chocolate, which contains 545 calories per 100g.
"Our real focus has been on how we get this brand to continue to be relevant," Mars Wrigley chocolate business unit director Kerry Cavanaugh told The Grocer, adding it was "an incredible product, very on-trend and delivers on the Galaxy silky smooth taste".
He suggested the sustainable packaging utilised for the NPD – as well as learnings from developing the chocolates – could be rolled out to other Mars Wrigley brands. "The response has certainly opened up ideas about what we might do more of with veganism."
The comparably higher price of the chocolate was commanded by the "premium experience" it offered, he said, stressing ultimately prices would be set at retailers' discretion.
Amazon and Ocado will begin stocking the chocolates shortly after their debut in Tesco.
Sales of Galaxy – the UK's third biggest chocolate brand – have fallen slightly over the past 12 months, dipping 0.4% to £217.6m [Nielsen 52 w/e 7 September 2019].