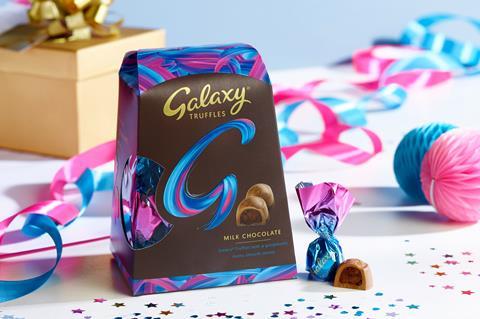 Mars Wrigley is to bring back Galaxy Truffles after eight years, launching it as a standalone product for the first time.
Created to cash in on the trend for confectionery gifting and the success of Maltesers Truffles, they will be available in two sizes of box: 206g (rsp: £4.99) and 329g (rsp: £7.49). Each features matte and metallic decoration, and contains individually foil-wrapped truffles made from Galaxy milk chocolate.
The smaller pack is set to roll out from mid-August, while the larger will be available exclusively in Tesco from mid-September. A £1m digital push will kick off in November.
The truffles came "in response to increased consumer demand for premium chocolates which are special enough to give" Mars said. They follow the May 2018 launch of Maltesers Truffles, which generated £9.1m in sales by the end of last year.
Galaxy Truffles were previously available only as a part of Mars Celebrations but were replaced in 2011 by Twix. Ever since, shoppers have raised petitions demanding the truffles' return.
Galaxy was "thrilled to be answering the undeniable demand" said brand director Sarah Mellor.