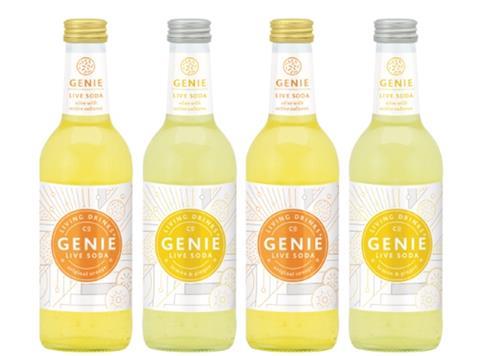 Soft drinks startup Genie is making its debut with a duo of 'living drinks' it claims are the first of their kind in the UK.
The brand has launched with two flavours of 'live soda' - Original Orange and Lemon & Ginger.
They contain active Bacillus Coagulens cultures billed as promoting gut health, similar to the kombucha drinks that have been gaining serious traction with UK shoppers (rsp: £2.50/330ml).
Yet Genie claims its drinks, which are also vegan, sidestep the "challenging taste or texture" some other health or probiotic drinks can have.
They also contain a lower calorie count per 330ml than many comparative soft drinks (Original Orange and Lemon & Ginger contain 85 and 73 calories respectively per bottle).
"In creating Genie we wanted to respond to consumer demand for healthier soft drinks that taste great while also delivering some health benefits," said the brand's co-founder Alex Webster.
"Boosting your gut with a drink that's not high in sugar or additives is an easy way to do that - especially if you like a fizzy drink for sheer enjoyment or are looking for an alternative to alcohol."
Genie's drinks have a shelf life of 12 months, and can be stored in ambient conditions.
The brand has launched into online retailer Farmdrop, and is in discussions with others. Its launch will be backed by a consumer PR campaign over the year's first quarter.