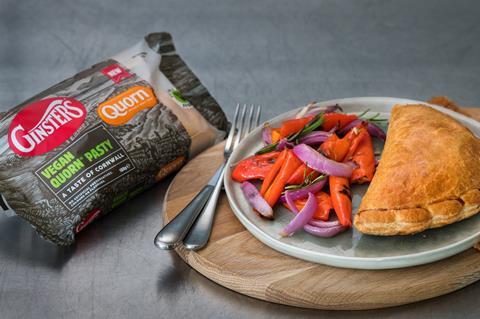 Ginsters of Cornwall has unveiled its second vegan product of the year, teaming up with Quorn to create a plant-based pasty.
Ginsters Vegan Quorn Pasty (rsp: £1.80/180g) is set to appear in chillers from Sunday 22 September. Based on Ginsters' Cornish Pasty, it combines marinated Quorn pieces with locally sourced potato, onion and swede encased in puff pastry.
It would tap the rise in vegan and flexitarian diets "with 62% of the UK population reducing their intake of meat" according to the Cornish supplier, which in May relaunched its Moroccan Vegetable Pasty as vegan – marking its debut in plant-based.
"Across savoury pastry, vegetarian products are driving category growth as consumers swap at least one meal each week for a meat-free alternative," said Ginsters MD Kieran Hemsworth. The brand intended to "work with retailers and partners to offer more variety and embrace the plant-based surge", which was being driven by "pre-family shoppers".
Quorn had "a vision to make the world's diets healthier and more sustainable" said its director of business development Andy Smith. "The Ginsters Vegan Quorn Pasty gives consumers the opportunity to enjoy a British classic whether they follow a vegetarian, vegan or flexitarian lifestyle."
It follows other collaborations between Quorn and other grocery suppliers. Last month saw the launch of Quorn's first-ever branded sandwich and wrap range, in partnership with Adelie Foods. In October 2018, Dr Oetker Ristorante Pizza rolled out two vegetarian variants, Pesto and Royale, produced with Quorn.