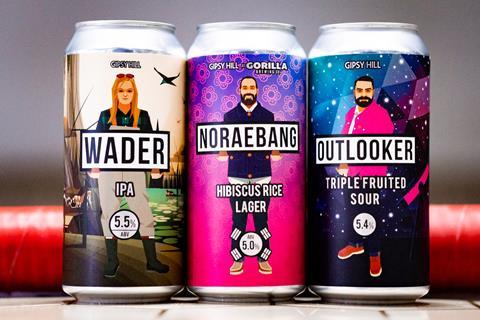 London's Gipsy Hill Brewing Co is set to roll out a trio of premium craft beers in a 440ml can.
The lineup comprises new recipes Outlooker and Noraebang, as well as a rebrew of the previously available Wader.
Outlooker (rsp: £4.75) is a 5.4% abv triple-fruited sour brewed with blackberries, raspberries and lingonberries. It offered a "thick mouthfeel and out-of-this-world fruity flavours" said Gipsy Hill.
The 5% abv Noraebang (rsp: £3.50) is a rice lager brewed in collaboration with Gorilla Brewing Co from Busan, South Korea. Steeped in hibiscus, the national flower of South Korea, it was created when Gorilla's Andy Green and Paul Edwards visited Gipsy Hill in December.
Originally launched in January 2019, Wader (rsp: £4) is a 5.5% abv New England-style IPA made with Galaxy, Kohatu and Vic Secret hops to create "juicy stone fruit aromas".
All three beers will be on sale from Wednesday (19 February) via Gipsy Hill's website, before becoming available on 24 February to the on and off-trades.
They come after the independent south London brewery last autumn increased its number of permanently available beers to six, while also undertaking a refresh of its visual identity.
As well as selling beer across the UK, Gipsy Hill exports to 14 countries including Spain, Norway and Australia.