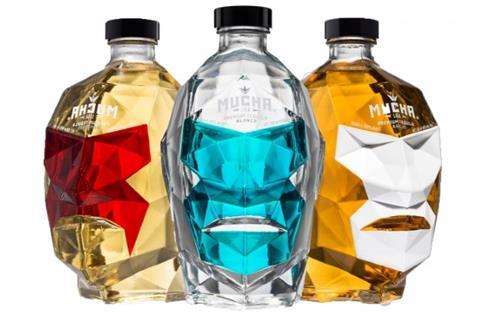 Gravity Drinks is launching a three-strong range of upmarket tequilas called Mucha Liga.
The range includes three expressions – blanco, reposado and anejo – respectively named Bravo, Canibal and Invicto.
They all come in hand-blown bottles shaped like Mexican wrestlers' heads, as well as a 3x10cl gift pack.
The spirits themselves come from the La Ciénega region of Mexico using agave grown roughly 1,530m above sea level.
The soil of the region "has a very high balance of nutrients due to the few generations of agave harvesting of the area, which gives the three expressions of tequila a vast and complex spectrum of flavours and aromas", said the brand.
This led to "a slightly sweeter, more flavoursome tequila".
It was "no secret that agave-based spirits like tequila and mezcal are on the up and up in the UK", said Gravity Drinks MD Matthew Maslin.
"Mucha Liga ticks all the boxes for today's tequila lover; it's traditional, high-quality tequila in a fantastic, eye-catching bottle with a refreshingly modern attitude towards sustainability and gender equality."
They have rolled into retailers such as Harvey Nichols, Amazon and Master of Malt, and are available direct from Gravity Drinks (rsp: £35.95 to £53.95).