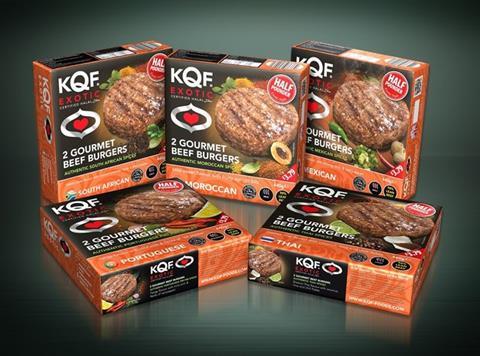 Halal food manufacturer KQF is launching a range of bumper-sized half pound (220g) burgers inspired by traditional dishes from around the world.
The new "Exotic" range goes on sale on KQF's website on 21 March, targeting independent and convenience store retailers, and comes in Thai, Moroccan, South African, Portuguese Piri Piri and Mexican flavours (rsp: £3.79/two-pack).
The HMC-certified burgers contain 90% lean beef and are an extension of KQF's 'Exotique' range, which was originally developed for the export market, but with a more adventurous offering of flavours, said MD Faruk Vali.
He added that the burgers were "aimed squarely at customers who are looking for convenience foods at the luxury end of the market," and were considerably larger than usual to offer consumers "something really satisfying for special family occasions", and for professional caterers who wanted to "differentiate themselves on the basis of size, quality and flavour".
Vali added the launch – which coincided with the introduction of a range of quarter pounders in beef, chicken and lamb flavours under the 'Jumbo' sub-brand, meant KQF could offer customers an "end-to-end selection", from family sized 55g burgers to its premium Exotic products, and effectively complete the company's burger range.