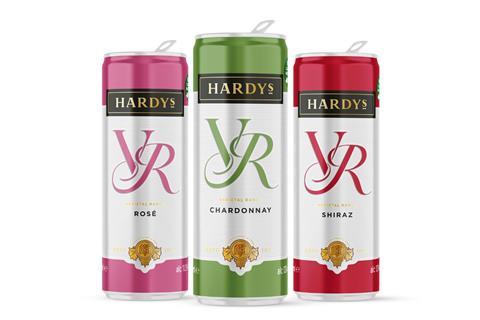 Hardys is pouring its wines into 250ml cans for summer.
Three variants – Rosé, Chardonnay and Shiraz – will roll into retailers and the on-trade in June (rsp: £2.50/250ml).
The Accolade Wines brand, which is the UK's biggest-selling wine, said the new "flexible and convenient format" would appeal to younger shoppers.
It would tap the "trend for moderation", as well as making wine more suitable for on-the-go and event occasions, it added.
Accolade Wines brand manager Lindsay Holas said the format "opened the doors to a whole host of drinking occasions and audiences".
"Offering a convenient and easily recycled option, we're expecting the cans to be a hit at festivals in the next few months, whilst also performing well in retail, with their compact size making them perfect for picnics and outdoor summer occasions."
They upheld "the same taste and quality as our standard full-sized formats", Holas added.
It comes after the brand last month launched a trio of non-alcoholic wines dealcoholised with what it called "cutting-edge" technology.