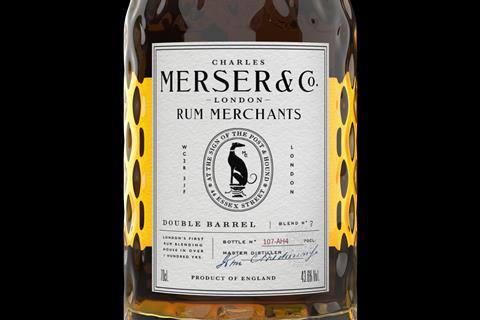 The Hayman family – owners of the upmarket Hayman's Gin brand – has launched a new rum brand, and opened the doors to what it claims is the first blending house to operate in the capital for 100 years.
The brand, Charles Merser & Co, is based near The Strand, and would "follow in the traditions of London's late, great rum blending houses by sourcing, blending, marrying and bottling a range of aged Caribbean rums from the heart of the capital", said the Hayman family.
As well as blending, aging and bottling, the brand will host tours and entertain trade customers at its new base.
Its first rum, Merser's Double Barrel (43.6% abv), will launch into Waitrose from October, with the brand hinting at "further blends to follow over the coming months" (rsp: £38/70cl). Its packaging is billed as telling "a story about London's historic connection to rum".
"London was for a long time at the heart of the global trade in rum, with blending houses playing a vital role in creating the finished rums that were widely enjoyed in the 18th and 19th centuries," said Charles Merser & Co brand director Jonathan Gibson.
"With Merser's we aim to explore that history, to bring back those lost traditions and to encourage a renaissance of interest in London rum."