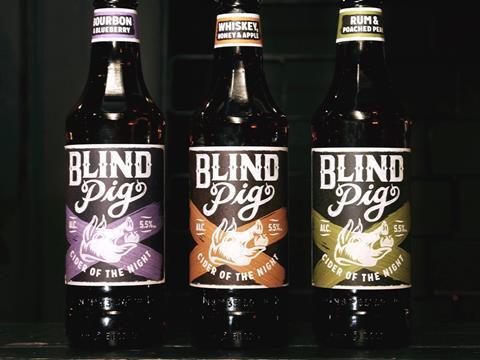 Heineken is pushing its cider portfolio with a £10m spend across its key brands, and is introducing its premium Blind Pig range to the off-trade.

The spirits-flavoured Blind Pig trio, launched as a pilot into the on-trade a year ago, will make its retail debut at the end of August when it will be rolled out in Bourbon & Blueberry, Whiskey, Honey & Apple and Rum & Peached Pear flavours (rsp: £2/355ml).

Following its test launch in 750 off-trade outlets, Blind Pig had been reformulated with a stronger spirit taste and a 5.5% abv, increased from 4%, in a bid to draw spirit drinkers to the category, said Heineken cider director Emma Sherwood-Smith.

The trio will benefit from a £2m push on a 'be blind to the rules' theme, encouraging drinkers to enjoy the tipple 'in the night' and 'not over ice', and highlighting the 'unique' liquor flavours.

"Blind Pig will disrupt current conventions of cider drinking," said Sherwood-Smith, adding it was an ideal pre-party drink for millennials.

Heineken is also pouring £2m into a push for its Bulmers brand, which has been given a "bold and modern" look with a stronger nod to its heritage.

In an effort to add value, and in response to demand for a smaller serve, the bottle size has been reduced from 568ml to 500ml, with no change to the rsp.

A £6m campaign for the brewer's Strongbow brand was launched this week, marking the first 'parent' push for the portfolio, based on its status as official partner of Team GB at the Rio 2016 Olympic Games.