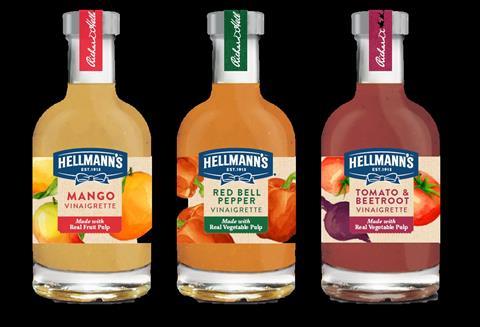 Sauce makers Hellmann's and Mary Berry have both shaken up their portfolios of premium dressings in a bid to appeal beyond traditional salads.
Hellmann's has unveiled Real Fruit & Vegetable Pulp vinaigrette designed to complement on-trend salads such as quinoa, lentil and couscous.
A trio of variants in a glass bottle – Mango, Red Pepper and Tomato & Beetroot (rsp: £2.49/200ml) – had arrived in the UK following a successful launch in France last year, Hellmann's said.
Made with fruit and vegetable pulp, the lineup would suit the "main meal salads that are becoming increasingly popular with younger, health-conscious consumers who are looking for easy ways to replicate the grain salads they eat when out and about".
Hellmann's had "worked closely with French chefs to develop a range of authentic vinaigrettes", said Andre Burger, vice president for foods at brand owner Unilever.
It comes almost a year after Hellmann's reformulated its salad dressings range to make it all-natural, while shrinking the packs by more than 10%.
Also this week, RH Amar's Mary Berry brand has undergone a major makeover, introducing a palette of bright colours across its labels. It has also replaced the photo of the eponymous TV cook with a central serving spoon image surrounded by ingredients.
The new look – the result of nine months' planning – will hit shelves in March with no change to pack sizes or rsps.
It will be supported by the social media-focused push #NotJustForSalads, aimed at showing off the dressings' adaptability. Mary Berry wanted to "inspire shoppers and shout about our range's wider versatility, providing recipe inspiration during key occasions like the barbecue season, as well as in everyday meal solutions throughout the year" said brand manager Anne-Marie Cannon.