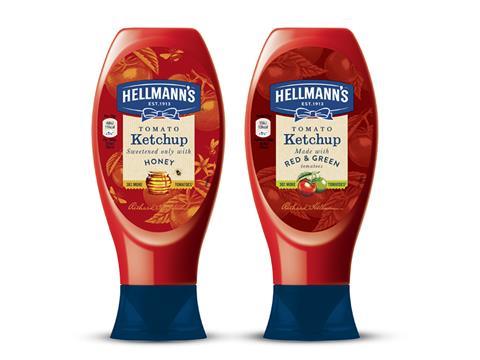 Hellmann's is hoping to shake up the ketchup category with the launch of two new "ground-breaking" sauces backed by a £9m marketing push.

Its new Tomato Ketchup sweetened with Honey, which uses 30% less sugar, will be the first on the market to be solely sweetened with honey when it goes on sale next month, the Unilever brand claimed.

Meanwhile, its Tomato Ketchup made with Red & Green Tomatoes, also launching in April, uses 36% more of the fruit by including both green and red varieties to help reduce food waste.

Both variants will be sold in 430ml bottles with an rsp of £1.89.

The launch will be backed by an £9m campaign including TV adverts, OOH advertising and POS.

"We know that consumers are seeking healthy, sustainable and natural food products," Hannah Webb, senior brand manager for Hellmann's at Unilever said.

"Our new ketchup offering taps into this trend and is in line with our commitment to provide consumers with delicious, honest and high quality products made with natural ingredients."

The packaging of the two ketchup variants will be in line with Hellmann's 2017 brand refresh, featuring neutral colours used to match the New York deli where Hellmann's originated in 1913.

Earlier this month, Hellmann's launched a 'new and improved' Light mayonnaise sporting the new design.

Scheduled to land on shelf "just in time for Easter", the new Light recipe will no longer contain artificial flavours, colours or preservatives, in a move to satisfy growing consumer demand for 'natural and sustainably sourced' ingredients, Hellmann's claimed.