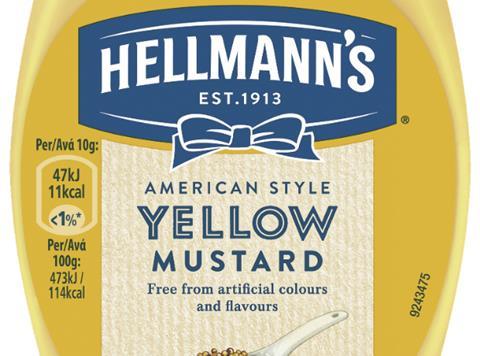 Hellmann's has unveiled its first mustard as one of two new squeezy bottle sauces to tap the barbecue season and the ongoing Americana trend.
American Style Yellow Mustard (rsp: £1.59/250ml) will roll out this month alongside Smokey BBQ Sauce (£1.99/430ml) – with the former option aimed at attracting a younger shopper to the mustard category. Its launch came on the back of "the increase in burger and hot dog restaurants over recent years", said Hellmann's.
Featuring Hellmann's new design, intended to emphasise its "deli heritage", the NPD is set to be part of the brand's £9m media investment for 2017, which will include OOH advertising activated by hot weather in locations across the UK.
The new duo – which join the raft of Hellmann's barbecue sauces added last summer – "offer new ways to enjoy food with delicious and eclectic flavoured sauces", claimed brand manager Francesca Howarth.
In March, Hellmann's Hellmann's unveiled two "ground-breaking" tomato ketchups: one sweetened only with honey, and another that includes both green and red tomatoes to help reduce food waste.