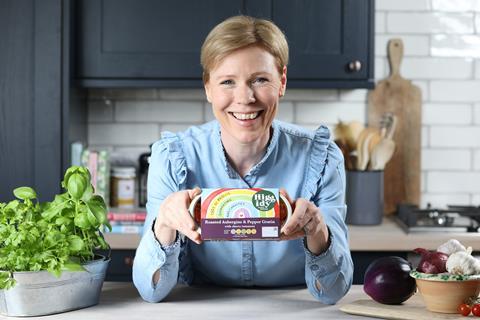 Higgidy is making a major move into the ready meals category - the first time the brand has launched a product outside savoury pastries.

It has created a quartet of four "premium" meals: Mac 'n' Super Green with a Crispy Kale & Pumpkin Seed Crumb; Mushroom & Puy Lentil Cottage Pie with Kale & Butter Bean Mash; Roasted Aubergine & Pepper Gratin with Cherry Tomatoes; and a Roasted Cauliflower & Paneer Curry with Carrot Bhaji Crust.

They will hit Sainsbury's on 24 June (rsp: £4.25/360g-390g), with packs promoting Higgidy's #EattheRainbow campaign: the brand is donating 100% of the proceeds from the meals in the first eight weeks of sale to NHS Charities Together.

Higgidy co-founder Camilla Stephens said she "wanted to create a range of recipes that were veg-focused and put veg right into the centre of the plate".

"More and more people are thinking holistically about health during lockdown, and even before that we were aware that people wanted to eat more veg but needed help with it," she said. "That's where Higgidy comes in."

Stephens also emphasised the flexibility of the dishes, noting they could be used as a meal or split in two and used with other ingredients.

"For instance, the Aubergine & Pepper Gratin could be split in two and put with a jacket potato or some cous cous," she said.

When developing the range, Stephens said it was important that the meals in the range were "relevant and recognisable".

For example, she said, by including a curry dish and a pasta dish that shoppers would be used to seeing on the ready meal aisle, while maintaining a "Higgidy twist".

Higgidy has also added a limited-edition summer savouries range of quiches, tortillas, rolls and the brand's first-ever mini egg muffins (rsp: £2.65-£4.25).