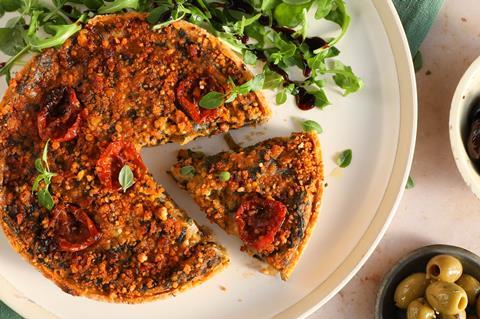 Higgidy is hoping to cash in on Veganuary next year with the launch of vegan quiches and No Pork Pies.
It will launch a duo of veg-packed quiches, with flavours including Spinach & Roasted Tomato and Porcini Mushrooms & Spinach (rsp: £2.50-£4.25/155g-380g)
It achieved the egg-like quiche consistency "after years of hard work, taste tests and trials", it said, combining oat and coconut milks amongst other plant-based ingredients.
Founder Camilla Stephens said she knew creating a vegan quiche would be a challenge, particularly given a traditional quiche is so reliant on eggs and dairy.
"The benchmark for us was that it had to be as good as eating something that isn't vegan," she said.
It will also launch a vegan No Pork Pie (rsp: £2.65/four-pack), filled with red peppers, tomato and lentils instead of a 'fake meat' substitute.
Stephens said the veg-packed recipe was in keeping with Higgidy's ethos of putting vegetables at the centre of the plate.
The range will hit Waitrose from 30 December, followed by Boots and Sainsbury's on 1 and 3 January.
The launch comes hot on the heels of Higgidy's winter range, which rolled out this month, comprising four SKUs: Pork & Cranberry Rolls, Brie & Cranberry Rolls, A Very Merry Parsnip Pie and Brie & Winter Spiced Chutney Quiche.
They hit Sainsbury's, Waitrose and Ocado, priced between £2.60 and £4.25.