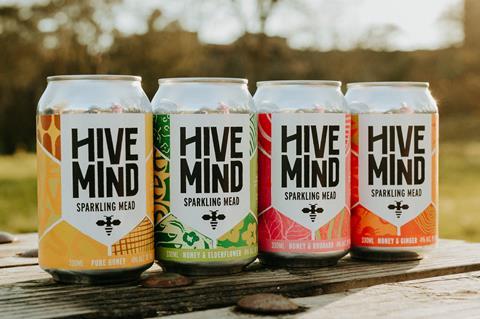 Wye Valley Meadery has rebranded its business and launched a range of canned sparkling drinks as it looks to introduce mead to a new audience.
The Caldicott-based supplier has rebranded as the Hive Mind Mead & Brew Co and rolled out Hive Mind sparkling mead drinks that have an abv of 4% – considerably lower than a traditional mead. They are made with 100% British honey, including some from Hive Mind's own hives.
The drinks are currently available in four natural flavours: ginger, elderflower, rhubarb and pure honey (rsp: £3.80/330ml or £15/4x330ml). Two more flavours, sour cherry and honey & hops, are due to be added to the range.
Mead had seen a surge of interest in the US craft drinks market, said Kit Newell, who founded the meadery and brewery in 2018 with his brother Matt.
"We've been at the forefront of growing interest in the product here in the UK, pioneering modern mead styles and changing perceptions of this versatile drink," said Newell.
"Our session-strength sparkling mead range was created to be light and refreshing," he added. "Moving the range into cans mirrors the craft beer movement and is a more sustainable option than glass."
The rebranding of the meadery as Hive Mind is designed to help grow the business across the UK and in export markets.
"Our ambition is to use the Hive Mind brand to help more people discover this amazing natural drink, and support honeybees in the process," said Newell.
Other Hive Mind products include a wine-style Traditional Mead (14.5% abv) that scooped a Gold Award at The Farm Shop & Deli Awards last year.
The business also produces an Oak Whiskey Barrel-Aged Traditional Mead (20% abv) and honey beers including smoked honey porter The Big Smoke (7.0% abv), honey pilsner Nectar (4.5% abv) and pollen-infused hazy pale Pollinator (3.8% abv).