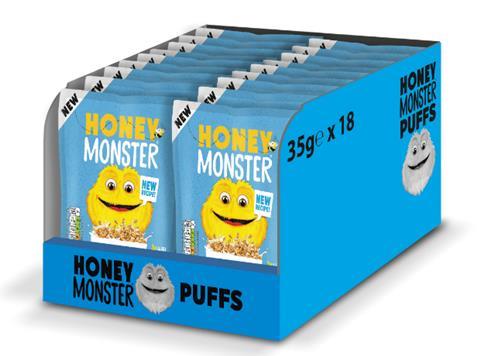 The revamped Honey Monster Puffs is offering consumers the chance to sample its reformulated cereal through a 35g pack format.
The new grab-bag, intended as an on-the-go option, will be filled with the brand's original variant following its lower-sugar reformulation and redesign by new owner Brecks Food.
The supplier has also tipped its overhauled Good Grains puffed wheat cereal into the 35g bag, with original and Multi Grains variants available through grocery, convenience and foodservice.
The smaller format (rsp: 45p) came in response to the rise 'little and often' grocery shopping, said Gary Lewis, Brecks managing director of brands. "The way people shop has changed forever… so we are ensuring we are responding to that while, at the same time, bringing more choice to the category."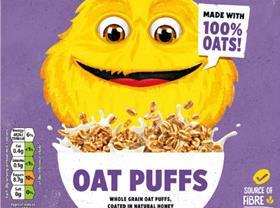 The grab-bag will roll out in April, after full-size packs Honey Monster Puffs and Good Grains land on shelf later this month. Options will include a Puffs oats variant – the look of which Brecks revealed this week.
The NPD was the first in a line of products the business planned to unveil over the next 12 months "as we look to bring more choice and excitement to the cereal aisle", said Lewis.