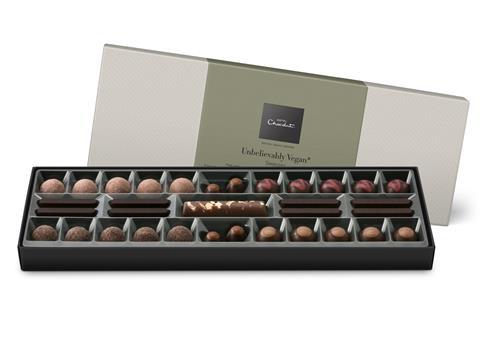 Hotel Chocolat has launched a new vegan range made with nut milk to mark World Vegan Day on Sunday 1 November.
The upmarket chocolatier has introduced the two-strong Unbelievably Vegan collection in stores and online in response to growing demand for plant-based lines. They have been designed for customers with a vegan diet and for those who enjoy dark chocolate.
The range contains pralines, truffles and caramels all made with nut milk to retain the creamy taste traditionally found in chocolates. The vegan Sleekster box (rsp: £22.95) is made up of 27 chocolates, while the H-box (rsp: £12.95) includes 14.
The Sleekster features batons in orange and nut milk, crunchy peanut butter and nut milk buche, and its 45% nut milk variant. This comes alongside its salted caramel and nut milk, pecan and nut milk, raspberry and nut milk and the 70% dark and creamy nut milk chocolates, as well as its rich gianduja bombe. This contains finely blended praline, wrapped in 70% dark chocolate. The H-Box, meanwhile, is made up of a smaller selection including the pecan and nut milk chocolate and gianduja bombe.
"We don't think you should compromise on chocolate quality, ever," said a spokeswoman for Hotel Chocolat. "That's why our vegan Sleekster and H-box are as creamy and smooth as our regular chocolates – we think everyone should be able to enjoy our chocolate creations, without any compromises."
Unbelievably Vegan follows Hotel Chocolat's discontinued free-from selection. This compromised of 45% cocoa and 70% dark versions of its organic Bunnies and Puddles, all of which were free-from gluten, dairy, nuts and wheat and were launched in February 2019. Hotel Chocolat said it is constantly changing its seasonal ranges and the products were taken off sale due to being part of its Easter range.