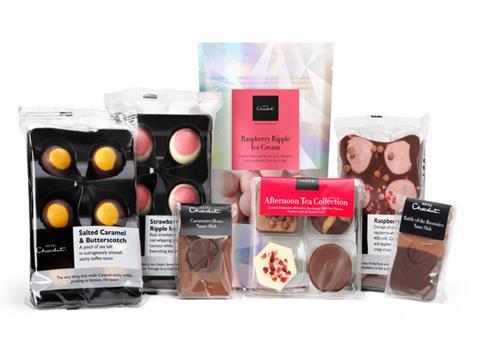 Hotel Chocolat has launched a summer collection inspired by traditional desserts such as cheesecake and ice cream.

The chocolatier has reinvented desserts into chocolate form for the collection, which includes a Chocs-to-Chill range. The range is made up of zingy fruit juices, traditional ice cream and milkshake flavours and classic cocktails, and is best eaten after 30 minutes in the fridge. Varieties include Scoops-to-Chill Big Dipper ice cream and sorbet chocolate bombes, Raspberry Ripple Ice Cream Little Dipper and Choc Ice Little Dipper, and Cocktails-to-Chill fruit chocolates with a shot of liquor.

RRPs for the Chocs-to-Chill products span from £6.50 to £22.95.

The Summer Desserts collection also encompasses the retailer's chilled Teaolat (RRP £2.50) - tea infused with St Lucian cacao shells which can be drunk as a standalone beverage or with cocktails. The drink is available as part of the collection in raspberry, lemon and ginger chai flavours, is rich in antioxidants and under 100 calories.

Alongside Teaolat comes the Cold-Brew Coffee with cacao (RRP £2.95). A Hotel Chocolat spokeswoman said this drink is the "gentlest and most natural way to extract the elemental flavours of coffee", and that the cacao shells in the cold-brew mellow its flavour for a smooth finish.
To further inspire customers, Hotel Chocolat has also featured a recipe book in the collection. A New Way of Cooking Chocolate (RRP £10) is "the chocolate lovers' bible", according to the retailer, and features more than 100 sweet and savoury recipes.

The Summer Desserts collection is already available online and is launching into stores on 18 June.

"Our patisserie genre has grown from strength to strength, starting off in our monthly tasting subscriber boxes and proving so popular we made them available to all Hotel Chocolat customers," said a Hotel Chocolat spokeswoman. "All recipes for the collection are inspired by cakes, bakes, sorbets and boozy aperitifs."