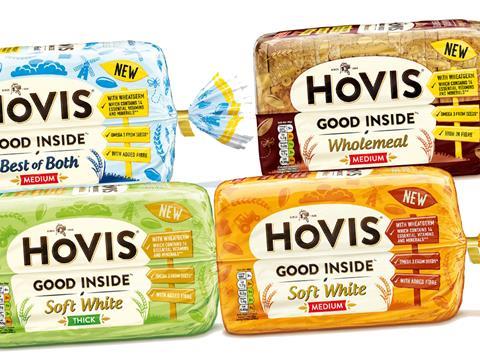 Hovis is hoping its new loaves will woo shoppers who have ditched bread over health concerns.

Hovis Good Inside comprises three loaves: 800g White and Wholemeal, and 750g Best of Both (all rsp: £1.45). They contain twice the omega-3 of the standard loaves, and more wheatgerm, which Hovis said contained 14 vitamins and minerals.

The launch comes as consumers are turning their back on wrapped bread, contributing to the value of bread sales of the three major brands (Hovis, Warburtons and Kingsmill) having crashed £120m year on year [IRI 52 w/e 28 March 2015]. "Consumers are gradually reducing their consumption of bread; they love bread but are feeling guilty about eating it due to perceived health concerns," said Hovis marketing manager Sophie Lyons. "The new range is baked with ingredients that help to make bread a positive health choice, rather than something to be avoided."

The launch will be backed with a £5m push. including TV, video-on-demand, radio, digital and in-store media. It kicks off in September when the loaves hit stores, and will run for three months. as part of a wider £10m brand investment over the next year.

Last month, Hovis relaunched its premium seeded and granary breads to flag up their health benefits and taste. It has rolled out new-look packaging for its Seed Sensations and Granary loaves in what it described as the start of a "wave of activity" for the brand in 2015.