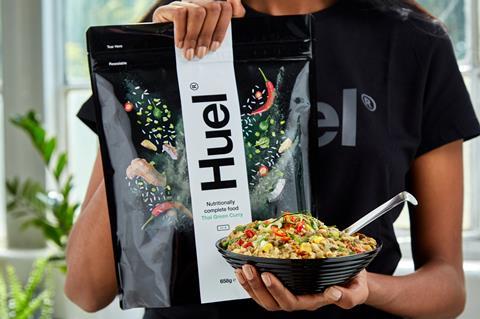 Huel is to debut in ready meals with a range of Hot & Savoury instant meals.
The food supplement brand has created a duo of meals – Thai Green Curry and Tomato & Herb – which can be prepared under five minutes and, like its core shakes, are billed as being "nutritionally complete" with a balance of carbohydrates, protein, fat, fibre and 26 vitamins and minerals.
Rolling out from 15 September through its DTC site, they are also completely vegan and soy-free. Thai Green Curry contains peppers, sweetcorn and spring onions spiced with coriander, cumin, ginger and chilli, while Tomato & Herb contains tomatoes, lentils, onion and green beans (£16.50/658g).
To serve, the mixture is spooned into a bowl, mixed with boiling water and left for roughly five minutes before they are ready to eat. They have a shelf life of up to one year.
Up until now, the brand has only been available in powder, ready-to-drink and snack bar form.
The NPD was "the perfect alternative for those relying on convenient fast food to avoid communal kitchen spaces as offices reopen, while also providing a healthy, easy choice for others remaining at home", said the brand.
"Designed for lunchtime, we're providing our customers with more options to consume 100% complete nutrition without having to count calories and read food labels," added its founder Julian Hearn.
The five-year-old business made its debut in grocery last year when it launched into the RTD category. However it is not clear whether Huel Hot & Savoury will see release in the multiples.