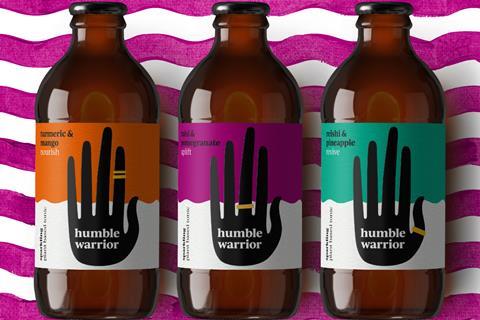 Humble Warrior has launched a range of plant-based sparkling tonics. The trio of drinks are made with sparkling spring water and plant extracts, in Tulsi & Pomegranate, Reishi & Pineapple and Turmeric & Mango flavours. Humble Warrior said the range would tap "the health-conscious adult soft drink market".
They have hit Selfridges in 300ml bottles, and "play on familiar flavours and drinking cues", said the brand's founder Rosh Amarasekara, such as "umami in our reishi, candied rum and cola flavours in our tulsi and black pepper in our turmeric" (rsp: £3.79).
The drinks were "punchier on taste and even stronger on impact", said Amarasekara. "We think the adult soft drinker deserves something exciting and delicious when they reach for something healthy."
It was possible the brand would look at creating a 150ml or 200ml mixer for spirits in future, she added, although it was currently "not the proposition".
The brand first hit shelves in 2018, launching into Planet Organic stores with a range of still tonics.