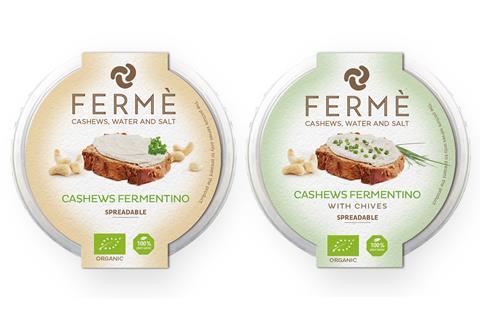 Italian cheese alternative brand Fermè has made its UK debut in Whole Foods Market.
A range of seven organic, vegan cheeses went on sale this weekend. The listing with Whole Foods saw the UK became the second country to distribute the brand, ahead of launches in Spain and France later this year.
The Original Fermè products are made with three ingredients: fermented cashews, water and salt. Its semi-aged block range (rsp: £5.99) features four SKUs in Original, Black Pepper, Paprika and Herbs & Flowers flavours. Its spreadable lines (rsp: £3.99) come in Original, Chive and Pepper & Basil variants.
The brand was launched in Italy earlier in the year by dried fruit and nut supplier Euro Company, a B Corp headquartered in Ravenna.
The brand uses the 'fermentino' method, coined by Italian raw chef Daniela Cicioni, in which products are made by fermenting nuts and oilseeds and adding only water and a pinch of salt.
Fermentino was "Italian gastronomic tradition's answer to the growing demand for natural foods of vegetable origin", said a spokeswoman for Fermè.
"With the trend for plant-based eating showing no signs of slowing down, the time was right to introduce the UK consumers to a natural plant-based product, which is healthy, delicious and only contains three ingredients," she added.