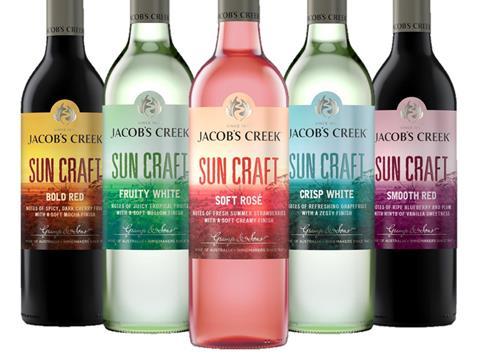 Pernod Ricard is to make a play for millennial consumers alienated by wine with the launch of new entry-level range Jacob's Creek Sun Craft.
Rolling out as a grocery exclusive this spring, the blended wine range comprises Bold Red, Smooth Red, Fruit White, Crisp White and Soft Rosé (rsp: £6). The wines - which range in abv from 8.2% to 13% - don't indicate the grape varieties they are made from, but do feature prominent flavour descriptors.
Pernod Ricard said the line had been created on the back of research suggesting millennials were often confused by wine. "We discovered they were unimpressed with the complexity and often confusing nature of the wine fixture," said Toni Ingram, head of marketing for wine.
"They told us they wanted wines from a brand that delivers a clear promise of quality without the confusion of signals such as variety and vintage."
Pernod Ricard is hoping the launch will shore up the average retail price of the Jacob's Creek classic range, by repositioning it as mid-tier. The brand's average price fell 5.7% last year to £5.89 - the steepest drop in the top 20 brands [Nielsen 52 w/e 10 October 2015]. Sales were up 2.2% to £92.5m, thanks to an 8.3% boost to volume sales.
Last February, Pernod Ricard UK commercial director Chris Ellis wrote in The Grocer the Australian wine category's future in the UK was under threat as a result of heavy discounting, which he said could make the UK an unattractive market for Australian producers facing shrinking margins. In July, industry experts took the same view, after The Winemakers' Federation of Australia's 2015 Vintage Report revealed that 85% of the country's production was loss-making.
Sun Craft follows a number of launches from Pernod Ricard's competitors with similar aspirations.
Accolade Wines introduced Echo Falls Fruit Fusions in 2014, saying finding a new generation of wine drinkers was one of the industry's biggest challenges.
Chris Wisson, senior drinks analyst at Mintel, said Sun Craft was "clearly a direct, and probably overdue, response from Pernod Ricard" to the success of Fruit Fusions.