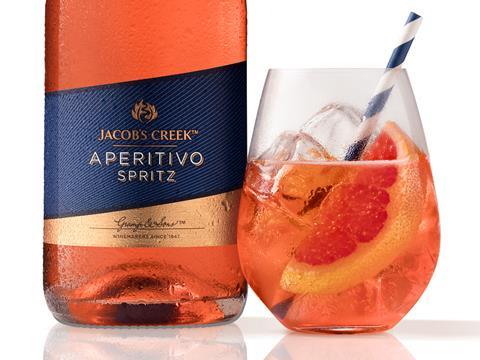 Jacob's Creek has launched a ready-to-serve Aperitivo Spritz, in a move to take on Italian apéritif brand Aperol.
The 8.5% abv pre-mixed drink rolls out this month in a 750ml ­bottle, to tap drinkers who want a trendy spritz-style ­cocktail without having to buy a range of ingredients to mix with Aperol.
Aperitivo Spritz is made with Jacob's Creek wine and costs £11 – cheaper than the £15 a bottle of Aperol currently costs in Tesco –and requires no extra ingredients.
The tipple had "a vibrant flavour profile of zesty blood oranges" and botanicals such as cinchona and liquorice root, said the brand.
It would attract body-conscious shoppers thanks to its low-­calorie credentials, according to Toni Ingram, head of marketing at Jacob's Creek owner Pernod Ricard UK. The drink contains approximately 80 calories per 100ml.
"The popularity of aperitif-style drinks is soaring among UK shoppers," Ingram added. "We are offering an easy and quick-to-serve solution for busy, health- conscious UK shoppers."
The launch of Aperitivo Spritz will be backed by ­on-pack neck tags and ­in-store activations such as sampling.
It is the second significant NPD from Jacob's Creek in a year. In November, the brand launched the French-style Le Petite Rosé, aimed at drinkers eager for lighter, drier wines.
Retail sales of Jacob's Creek have grown ­steadily over the past three years, rising 3.4% (£3.2m) over the past 12 months to hit £99.5m [IRI 52 w/e 3 February 2018].