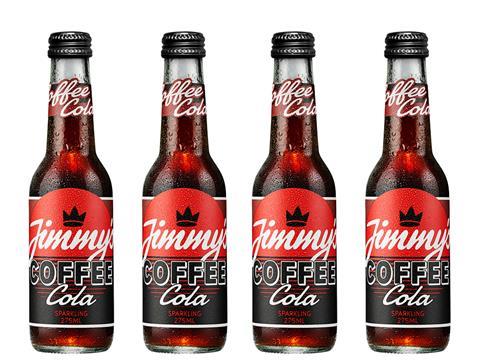 Jimmy's is hoping to lure the low & no crowd with a move into cola.

Jimmy's Coffee Cola is made by combining cold brew coffee and Jimmy's own cola recipe, and is billed as "the perfect sundowner".

Although it will launch initially into the UK's pubs, bars and cafés from April, an off-trade launch will follow (rsp: £2.95/275ml).

Bottles are adorned with a red and black sunset design "contrasting with the morning pick-me-up of iced coffee".

Jimmy's co-founder Jim Cregan said Coffee Cola was "a cracking addition to the family" and was "about as refreshing as a drink can get".

The Coffee Cola concept was thought up by Jimmy's head of creative Nick Waring, who one day mixed a can of cola with a chilled espresso shot.

"It was so amazing, we needed to bring it to market", said Cregan.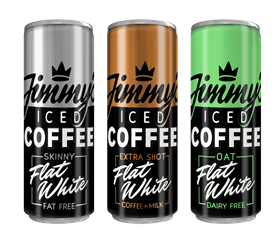 It comes as the brand changed its name from Jimmy's Iced Coffee to simply Jimmy's this year with a major rebrand, signalling a move away from its iced coffee heartlands.

The brand has also added two flavours to its canned flat whites range.

Oat Flat White and Skinny Flat White will join the original Extra Shot Flat White that launched last summer.

Each containing fewer than 150 calories, they replace the core range's Oat Latte and Skinny Latte SKUs, moving them into cans and providing a "higher coffee content and a silkier finish".

They will roll out to service stations this month, followed by Waitrose on 2 April (rsp: £1.85/250ml).

Both launches were further steps on the road to the Jimmy's brand becoming single-use plastic-free this year, added Cregan.

William Reed - the publisher of The Grocer - has launched an exhibition exclusively for the growing low & no category. For more information, visit low2nobev.com