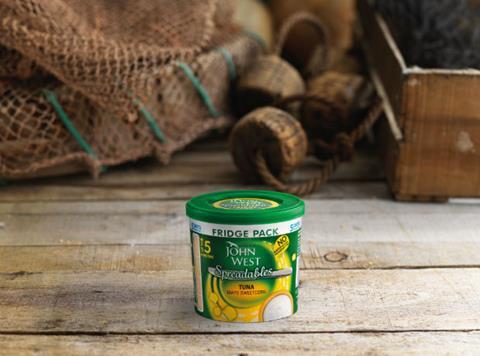 John West plans to get tuna into shoppers' refrigerators with the launch of the Fridge Pack format, a pot of ready-mixed tuna mayo and sweetcorn in a 255g plastic pot.

Hailing the NPD, which contains up to five servings, as its biggest innovation since No Drain cans in 2008, the brand will roll out Fridge Pack (rsp: £2.49) next month. It will be supported by a £1.5m TV ad campaign in August as part of rthe Spreadables range.

The new ambient product - aimed to serve the growing demand for convenience - has a resealable lid allowing it to be refrigerated for five days after opening.

"Fridge Pack is our most exciting and innovative NPD for many years," said Jon Burton, John West marketing director. "We're getting tuna out of the cupboard and into the fridge, as well as introducing plastic into a category dominated by cans.

"We know a proportion of lost canned fish sales are going to cheese and cooked meats, so Fridge Pack will not only put tuna front of mind with consumers, but also make it as convenient and versatile as other sandwich proteins," he added.