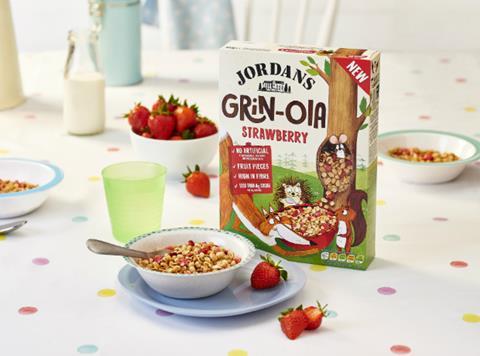 Healthier breakfast brand Jordans has unveiled Grin-ola, its first cereal lineup for children.
Aimed at kids aged five to 11, each variant in the four-strong range contains a blend of oats, barley, rice and wheat, with fruit or chocolate pieces. Strawberry, Banana, Chocolate and Apple & Raspberry (rsp: £2.99/400g) had been "specially crafted for kids' taste buds" said Jordans. Per 100g, they contain no more than 13.2g of sugar and between 7.3g and 7.7g of fibre.
Rolling out this week, Grin-ola came in response to "the growing interest from parents looking to give their children a breakfast option that is less sugary". Jordans had "worked really hard to keep sugar as low as possible without compromising on great taste that kids will love". The quartet contains no added salt, with no artificial flavourings, colourings or preservatives.
Back of pack features the Grin-ola Gang, five "adventurous" woodland animal characters offering wildlife facts, games and nature quizzes, as part of Jordons' "ongoing commitment to the British countryside". Every pack also offers 50% off a Wildlife Trusts family membership – a "category differentiating incentive" to purchase.
A £1.5m digital-led push will kick off later this summer, encouraging children to "set their natural energy free outside".