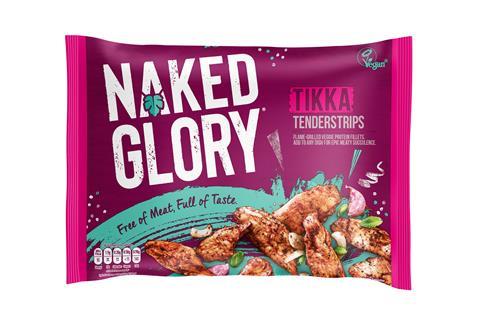 Kerry Foods has boosted its plant-based Naked Glory range with chicken-inspired Tenderstrips across chilled and frozen.
Coming in three variants - Roast, Tikka and Smoky BBQ - the soya-based snacks will begin rollout from 3 February, when a chilled version of Roast goes on sale in Sainsbury's (rsp: £2.75/240g).
A frozen Tikka SKU will be sold in Tesco from 8 February, with all three frozen variants (rsp: £3.49/280g) appearing in Co-op from 27 March. They will then be available on wider distribution from April.
Naked Glory said its additions were part of its plans to boost the UK's number of flexitarians - in light of an 18% jump in value sales for meat alternatives to £474.5m [Kantar 52 w/e 14 July 2019].
"The demand for tasty and exciting meat-free food is greater than ever before," said Naked Glory marketing manager Alison Lees. "It's a compelling space for retailers to play in and a category that we expect to see continue enticing meat-eaters, vegetarians and vegans alike over the coming months and beyond."
It's the first NPD for Naked Glory since Kerry announced it hoped to disrupt the meat-free market when the brand debuted last September.
First going on sale in Tesco and Morrisons with four SKUs - No-Meat Balls, Chilled Sausages, Mince and Quarter Pounders - the range has sought to offer a meaty taste and a succulent texture.
At the time of Naked Glory's launch, Kerry insisted its ingredients had all been sourced sustainably, with the soya coming from farmland where crops had been "grown for generations" in areas well away from rainforests.