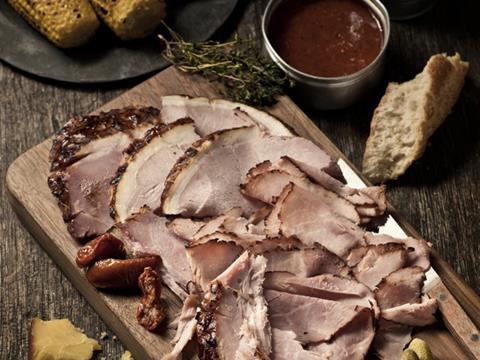 Kerry Foods is hoping to expand the appeal of sliced cooked meats with the UK launch of a BBQ-inspired premium brand.

Fire & Smoke encompasses seven new pre-packed meats (rsp: £2.89) and two deli-counter products including Bourbon Smoked Fire Grilled Ham, Fire Grilled Turkey and BBQ Smoked Fire Grilled Shaved Chicken.

Manufactured by Kerry's Irish processing business Denny, the range was created by innovation chef Phil Bowen, who travelled to Kansas to learn about flame grilling from America's so-called 'pit masters'.

The prime joints of meat are cooked on a low heat for more than eight hours before being fire-grilled and smoked over oak wood chips.

According to Kerry Foods meats marketing controller Chris Owen, the Fire & Smoke brand was developed in response to research that found cooked meat aisles were failing to inspire younger consumers.

"In particular we identified an opportunity among a specific group of consumers we call 'flavour cravers'," he added.

"They are young, dynamic and adventurous, and while they are buying into protein, they are unenthused by what is currently on offer in cooked meats."

Fire & Smoke was launched in Ireland on 16 April and senior brand manager Hilary Hughes said it had enjoyed ­"phenomenal success" - attracting an estimated 20,000 new shoppers into the category.

Kerry is currently in discussions with UK retailers, and the brand could hit British shelves later this year.

Hughes said the UK launch would be supported by a "high-impact" 360-degree marketing campaign, focused on digital and social media activity and supported by in-store and out-of-store sampling and "disruptive" point-of-sale activity.