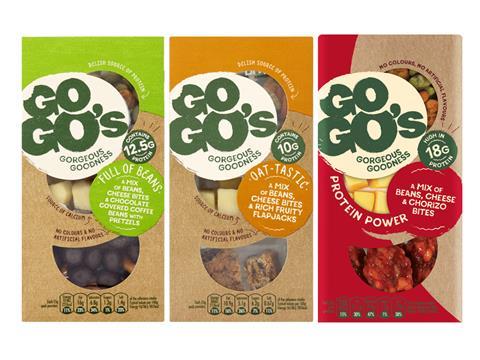 Kerry Foods has launched 'Graze-like' cheese-based snacks in its latest bid to grow the adult snacking market.

The initial GoGo's 'Gorgeous Goodness' range, rolling out now, will consist of Full of Beans - a mix of beans, cheese bites & chocolate covered coffee beans with pretzels - alongside Oat-Tastic, which comprises beans, cheese bites and fruity flapjacks (rsp: £1.50/55g pack).

Protein Power, which contains soy broad beans, cheese and chorizo bites, completes the range (rsp: £2/70g), with additional flavour and ingredient combinations due to roll out throughout this year, said Kerry Foods. Each pack provides between 10g and 18g of protein.

The newcomer would "disrupt" snacking and revolutionise the dairy aisle by giving shoppers the chance to "experience interesting flavour combinations", while making them feel good about what they eat, said senior brand manager Amanda Ryan, adding there was a "real opportunity" to deliver growth.

"Research shows 27% of consumers are willing to pay more for snacks that have positive nutritional benefits so we wanted to ensure our products are tasty and exciting but also deliver nutritional value," she added.

The NPD looked like a more exciting version of Graze that would simultaneously satisfy flavour needs and virtue - something no brand had fully cracked in the snack category, said Steve Stokes of creative agency Duke.

Kerry Foods is supporting the launch with sampling and geo-targeted digital campaigns.